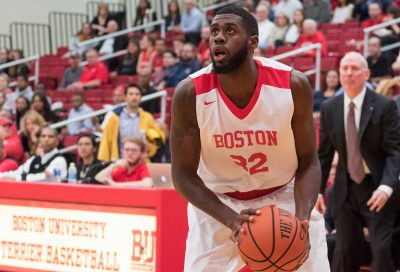 The Boston University men's basketball team opened Patriot League play with a 61-55 win over the College of the Holy Cross on Friday night at Case Gym.
In an emotional start to the conference slate, the Terriers (6-7, 1-0 Patriot League) came out energized and focus, much to the delight of BU head coach Joe Jones.
"I was most pleased about [the team's energy]," Jones said. "We made a ton of effort plays. We talked before the game about what else are we going to bring to the table besides scoring individually, and then we talked about making effort plays, and I thought our guys really stuck to that and did it."
BU was led by a pair of seniors whose play will be crucial to the team's success this season.
Forward Justin Alston and guard Eric Fanning each recorded their first double-doubles of the season in the win.
Alston scored 13 points and grabbed a career-high 15 rebounds en route to winning the Turnpike Trophy game MVP. The Washington D.C. native controlled the glass on the defensive end and nearly had as many offensive rebounds as the entire Holy Cross (6-8, 0-1 Patriot League) team.
Jones was pleased with Alston's rebounding dominance and had stressed earlier in the year that rebounding would be key to the Terriers' success.
"He did a great job consistently going to the glass," said Jones. "He had a big effect on the game."
Meanwhile, Fanning had a team-high 14 points to go along with 10 rebounds and five assists. Fanning and Alston became the first Terriers to record double-doubles in the same game against a Division I opponent since John Holland and Jeff Pelage did against the University of Maine in 2009.
Jones was particularly impressed with how Fanning, his leading scorer, impacted the game when he wasn't shooting the ball.
"When he wasn't scoring, he was doing other things, one of them was helping to rebound the ball," Jones said. "He took a huge charge in the second half. He made plays outside of just scoring the ball, he did a lot to help us win."
BU's defense also played a key role in the win, holding the Crusaders to 31.6 percent from the field, the third time they have held an opponent under 33 percent this season. The strong defensive play stemmed from the energy the Terriers played with for all 40 minutes. Jones also noted that his team was dialed in and executed the game plan, which he says is why they were able to play so well collectively.
"Our zone was real effective," Jones said. "We did a good job of understanding what they were trying to do. Our guys were playing very hard and as a unit, covering up for each other."
After taking down the defending Patriot League champions, BU will host runner-up and preseason favorite Lehigh University at Case Gym on Monday. The Terriers will have their hands full with Lehigh's two-time Patriot League Player of the Year Tim Kempton.
However, Jones says he won't pay much attention to preseason predictions, choosing instead to get his team prepared and focused for each game in a competitive conference.
"The biggest thing for us is bringing consistent effort and focus every night," Jones said. "The team that can be consistent in what they do is going to be the team that is going to have the most success. Monday night's game is about us going out and playing the way that we're capable of playing."