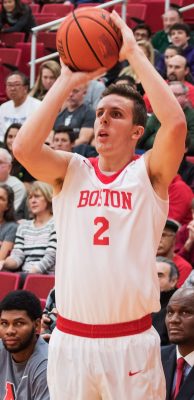 The Boston University men's basketball team started the new year off right with a 75-61 win against Lehigh University.
The Terriers (7-7, 2-0 Patriot League) have now won two straight games to start their Patriot League play, following up on last Friday's win over the College of the Holy Cross. BU also continued its strong play at home, moving to 7-1 at Case Gym.
Meanwhile, the Mountain Hawks (7-6, 1-1 Patriot League), who were predicted to finish first in the conference in the preseason poll, had their four-game win streak snapped.
BU head coach Joe Jones was most pleased with his team's energy for the majority of the game.
"For about 32 to 33 minutes, we played smart, hard and tough," Jones said. "Once we got that big lead, we lost focus. We have to learn how to play consistently throughout the entire game. We played with a lot of intensity defensively as well."
Senior forward Justin Alston (14 points, nine rebounds) and senior guard Eric Fanning (11 points, eight rebounds) led the Terriers on offense, nearly notching their second consecutive double-doubles.
Two more Terriers scored double figures as well: freshmen forwards Tyler Scanlon and Max Mahoney each had 10 points. Although he did not fill up the stat sheet, junior guard Will Goff played key minutes off the bench. The Scottsdale, Arizona  native played 22 minutes, making multiple hustle plays and easing the harm from Fanning's foul trouble.
More strong performances from Mahoney and Goff could help them find their way into Jones' tight rotation.
"I've been a coach who tends to ride with his most talented players for most of the game," Jones said. "I've gotta learn to use the bench more because it's a key if I can use the bench and trust them to play consistently."
BU's tough defense was the main force behind its big win. It held Lehigh to 61 points on 34.9 percent shooting. Coming into the game, Lehigh had the 18th highest field goal percentage in the nation at 49.5 percent and an average of 80.4 points per game.
"Our zone was able to put us in position to contest jump shots," Jones said. "We were active in the zone, so we were able to force their shooters into taking a lot of tough shots, and we forced some turnovers."
The Mountain Hawks' offense is hard to stop with their multiple weapons. Four of their players score in double figures, including senior Tim Kempton, who is the two-time reigning Patriot League Player of the Year. The Scottsdale, Arizona  native puts up 20.9 points per game and grabs 10.3 rebounds per game .
Other double-digit scorers for the Mountain Hawks include guards Kahron Ross (11.9 ppg), Austin Price (11.6 ppg) and Kyle Leufroy (11.3 ppg). On Monday, Ross and Kempton led Lehigh with 16 points each.
"When Kempton got the ball in the first half, he scored," Jones said. "He sat a lot in the second half when they went down big, so we didn't really limit him. He's a great player."
The first half of the game was close, as BU never led by more than 10 points, but it carried a 38-29 lead into halftime. In the second half, its lead reached as high as 23 points after a 3-pointer from Scanlon with 10:02 remaining.
The Mountain Hawks then went on a run through the next six minutes to cut the deficit to nine, but were unable to get over the hump, and the Terriers hung on for the victory.
Despite beating two of the Patriot League's better teams in the past week, Jones wants his players to stay focused.
"We have to keep things in perspective," Jones said. "We can't get ahead of ourselves and start looking at a big win streak down the line — the conference schedule is so long. It's about focusing on what we're doing and ways to improve game-by-game and day-by-day."