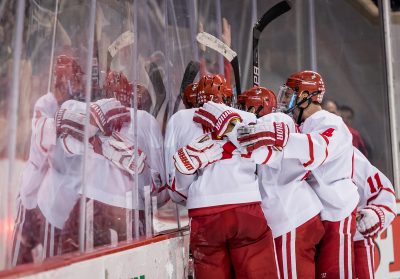 The New Year often brings about new goals, a new perspective on the ebbs and flows of life. For the No. 5 Boston University men's hockey team, 2017 ushers in two things: the 2016-17 season's second half and an unwavering outlook.
That's right – poke around Agganis Arena, the Terriers' sanctuary, and the same laser-focused rhetoric arises.
"It's staying in the moment for sure," said senior forward Nick Roberto. "We didn't really play a lot of Hockey East games [in the season's first half], so the schedule is going to be tight with that. Every point matters. A tie here, a loss there really affects us come March when the final seedings come out for playoffs, so you take it game by game."
For David Quinn, who marshaled his team to a 10-5-2 record throughout the first semester, much of the same held true.
"It's more you want to win your next game and you want to continue to improve and have good practices and shorten your mentality up and live in the moment," BU's fourth-year head coach said. "At the end of the day, if you take care of that, then the big goals will take care of themselves."
Still, it's hard not to reflect on just how far these Terriers have come across the last three months.
Preseason was dominated by hype and expectations, largely the byproduct of the scarlet and white boasting 11 NHL Draft picks and the highest-touted recruiting class in recent memory. Then came a mix of learning moments and satisfaction.
For starters, in mid October BU was swept at now-No. 3 Denver University, only to bounce back with strong wins over now-No. 15 Quinnipiac University, Northeastern University and the University of Michigan. But, just when things were looking up, the same up and down pattern followed suit, as evident by a 4-0 loss at home to the University of Connecticut preceding statement victories over now-No. 4 Harvard University and now-No. 13 University of Vermont.
In other words, Quinn's side is still rounding out the edges, a process expected for the second youngest team in college hockey.
"At the end of the day, we want to win championships and we've got to start playing more consistent championship-type hockey," Quinn said. "I thought we'd been doing that a little more as the first half progressed, and we have to build on it and make sure we do it more often."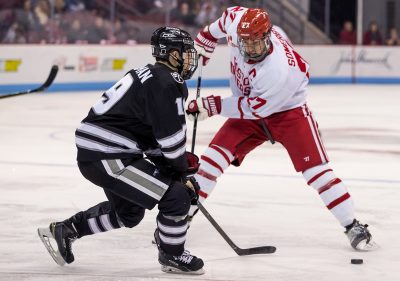 A major component of that development will be how BU's youthful core continues to progress. Its top six forwards – freshmen Patrick Harper, Clayton Keller and Kieffer Bellows, and sophomores Jordan Greenway, Jakob Forsbacka Karlsson and Bobo Carpenter – have largely shined, combining for 81 of BU's 150 points.
On the blueline, freshmen Dante Fabbro and Chad Krys, as well as sophomore Charlie McAvoy, have balanced stout defense with offensive flair. Then in goal, freshman Jake Oettinger has emerged as one of the nation's best, boasting a .932 save percentage and 1.87 goals against average.
Still, there's a steadfast belief that the best is yet to come for BU's young guns.
"Now it's taking care of yourself and knowing what's best for your body so you can help the team as much as you can," Carpenter said. "You definitely want to come out strong the second half and we know every game is really important to get where we want to get."
Meanwhile, Roberto added: "The second half of the year is really big. All the freshman become older, so we consider them like sophomores now. They've been on the road at some tough environments like Denver and Michigan, so road games shouldn't be too bad for them … I think the second half of the year is really going to be good for us. I think we're heading in the right direction."
All things considered, 2017 should show the Terriers' true colors. Stout competition awaits, including Hockey East series with No. 6 University of Massachusetts Lowell, No. 8 Boston College and No. 12 University of Notre Dame. There'll be some fun, too, with Frozen Fenway and the 65th Beanpot Tournament on the docket.
In the interim, what's the main goal?
"Definitely consistency," Carpenter said. "Paying attention to the details and doing the little things to help get those victories is I think the biggest asset we can give ourselves."
Buckle up, Terrier fans. It'll be quite the ride.