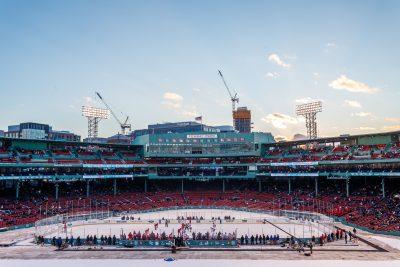 It wasn't always the prettiest, it seldom was flashy and it definitely wasn't the most convincing.
None of that mattered when the clock showed zeroes, though, as the good times kept on rolling for the No. 5 Boston University men's hockey team on Sunday afternoon under the watchful eye of Fenway Park's Green Monster. This time, the result was a 5-3 win over the University of Massachusetts Amherst at Frozen Fenway, its seventh straight over the program.
"A special night when you get the chance to play at Fenway Park, especially for us with Fenway right on the edge of our campus," said David Quinn, BU's head coach. " … It was a great night and a fun night, but you can't lose sight of the fact that two points are at stake and it's a very, very meaningful game."
The Terriers (12-5-2, 5-2-2 Hockey East), who now boast a four-game winning streak, were led by sophomore forward Jakob Forsbacka Karlsson's two goals. The Swede now has five tallies in his last two contests, and was aided along by 11 different players registering a point.
That onslaught commenced with 28 seconds remaining in the first period, when Forsbacka Karlsson stuffed a near-post drive past Ryan Wischow, the UMass (5-15-2, 2-8-1 Hockey East) netminder. With a 1-0 lead in hand, "JFK" doubled the advantage midway through the second period, dishing in a backhand feed from his linemate, freshman Kieffer Bellows.
Everything seemed to be turning up in BU's favor –sophomore defenseman Charlie McAvoy cleaned up a rebound shortly thereafter to make it a 3-0 game – but head coach Greg Carvel's side showed plenty of fight.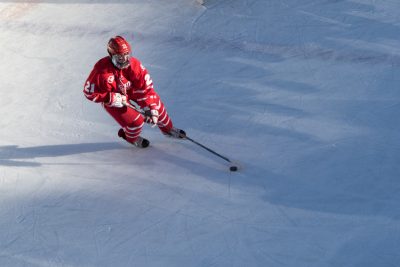 Forwards Griff Jeszka, Ray Pigozzi and Steven Iacobellis found net – the first on a bad-angle shot, the second shorthanded and the third off a deflection. Amidst each response, Forsbacka Karlsson said the key was to stay on course.
"From our side, I think we just got to keep going along," Forsbacka Karlsson said. "You can't really let a goal like that get in year head. Just take the next shift and keep going."
The Terriers did just that, with freshman defenseman Chad Krys and freshman forward Gabriel Chabot each scoring their second collegiate goals to make it a 4-2 and 5-2 game, respectively. Receiving contributions from unheralded players like Krys and Chabot, as Quinn put it, is exactly what BU needs when playoff hockey rolls around.
"It's going to play a huge role moving forward," Quinn said. "If you're going to have success and win championships, which we want to do, you need 26 guys pulling in the same direction and having the ability to contribute, whether it be today, February, March or April."
Perhaps lost in the shuffle of things was freshman goaltender Jake Oettinger, who stopped 26 of the 29 shots UMass threw his way. Without his efforts, it's entirely likely the Minutemen could have left Fenway with far more than a special experience.
"He's a guy who did a lot of the things he's been doing all year long," Quinn said. "It's why he was on the World Juniors team and why he's having the great freshman year that he's had. He makes timely saves, he makes it look easy, he's big, he's composed."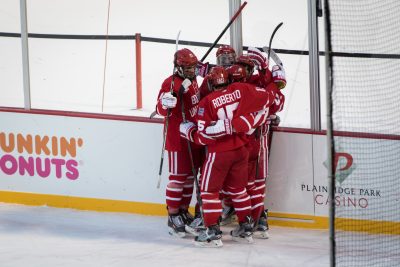 Despite the ups and downs, it's hard not to look at the bigger picture for Quinn's side. In a four-day span, it knocked off No. 10 Union College, made Yawkey Way a friendly home and saw six of its players win gold at the 2017 World Junior Championships.
All that comes before BU takes on its rival, No. 8 Boston College, in a home-and-home series that starts in five days time.
So, the Terriers will take the good and the bad – namely that it suffered six penalties – and consider Frozen Fenway a success. After all, Agganis Arena and Conte Forum now beckon in what's possibly the 2016-17 season's biggest set yet.
"We don't really focus too much on who the opponent is – it's more what's going on in our locker room," McAvoy said. "We'll approach it like we do every game and obviously respect them, but I think it's going to be a big week of work in practice for us. I think we'll go into that weekend feeling good."