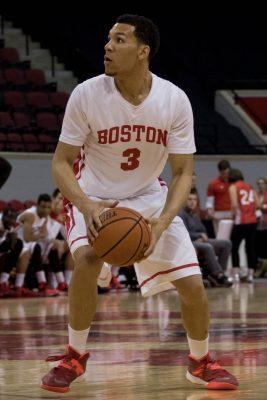 The Boston University men's basketball team won its fifth consecutive Patriot League game Wednesday, defeating American University 76-66. In a game where the Terriers (10-7, 5-0 Patriot League) never trailed, the Eagles (4-12, 1-4 Patriot League) had no answer to BU defensively or offensively.
The top two scorers for the Terriers each had efficient nights, as junior guard Cedric Hankerson tallied a team-high 21 points, going 5-for-7 from 3-point range, while senior guard Eric Fanning poured in 17 points.
Hankerson's strong 3-point shooting paved the way for BU to shoot 66.7 percent from downtown, in line with their recent performances. On this five-game winning streak, the Terriers are shooting a tremendous 45.7 percent from behind the arc.
"The guys are playing really well together, offensively they have a ton of chemistry," said BU head coach Joe Jones.  
It is fitting that the game began with a 3-pointer by Fanning that got the Terriers off to a quick start. American attempted to keep it close early as a layup by senior Charlie Jones made the score 8-4 in favor of BU, but from that point forward, it was the Terriers' game.
After Jones' layup, the Terriers scored 12 unanswered points, while American committed three turnovers during that span. Fittingly, the run was capped with a 3-pointer by junior guard Will Goff.
While the starters played well from the tip, things got shaky when Jones turned to the bench.
"The big thing was we were ready to play, got out to a big lead early and I thought for the first time in a while we had some guys come off the bench not ready to go, not focused," said head coach Jones. "American was able to get some momentum the first time I subbed because we had some guys not perform well off the bench overall, but also the first substitution really changed the dynamic of the game because they got some momentum and confidence."
American freshman Sa'eed Nelson finished the game with a team-high five assists and his layup with 12:32 remaining in the game diced the Terrier lead to four. Although American did have some bright moments, they never truly threatened the Terriers' lead once BU's starters took control.
Unfortunately for the Eagles, BU responded to Nelson's layup with a 3-pointer from Hankerson and a layup from junior forward Nick Havener. American managed to dwindle the lead down to four multiple times in the second half, but the Terriers always had an answer and the lead never slipped below four. The one area BU did struggle in was rebound, as American got three more total rebounds, including 14 offensive rebounds.
"We weren't able to get to loose balls, rebounds," Jones said. "They shot 39 percent, but they had 14 offensive rebounds. We cut that to half, we might have been able to stretch the defense out. The other thing is we missed a ton of layups, a ton of shots in the paint. Shots we can't afford to miss."
During this undefeated Patriot League streak, BU has held its opponents to an impressively low 62 points per game, down from the season average of 70.6. The Terriers have continually stymied opponents and American shooting 6-for-23 from deep shows that. Jones attributes that to the effort his team is putting forth.
"First, we are playing a lot harder than we have in the past," Jones said. "Actually, I thought New Hampshire was the start of it and we took a step back in the UMass Lowell game. From that point, we've done a good job of competing."
Not only has BU competed, but it has thrived to open up the Patriot League season, causing players to have more confidence in their overall play, said Jones.

"They're feeling good," Jones said. "The thing is are we getting better? Those are the most important things to me right now. I know everyone wants to talk about we won five games to start the conference season and that's great, but are we getting better?"