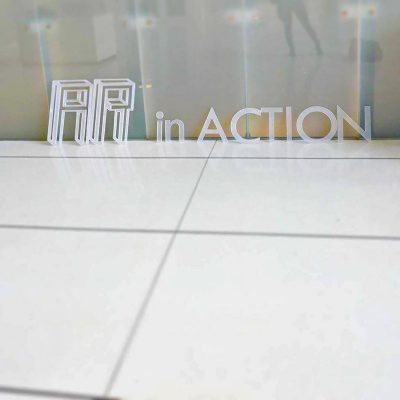 Last July, the smartphone gaming app, Pokémon GO, took the world by storm. With a Guinness World Record release of 130 million downloads in the first month, its explosive popularity drew from the utilization of a new technological standard: augmented reality. For many innovators developing augmented reality, or AR, catching fantastical creatures barely scratched the surface on the possibilities of this growing field.
On Jan. 17 and 18, the inaugural AR in Action summit explored what's new and what's next in the world of AR technology, presented at the Massachusetts Institute of Technology's Media Lab. According to the conference's website, one of the main goals was to "provide unprecedented opportunities for learning and networking with the greatest minds in AR and adjacent fields of technology."
While the world saw the first rudimentary AR prototypes in the late 1960s, the field is still in development today. In essence, AR serves as a medium to enhance the user's world view with a new layer of virtual objects. Whether through channels such as headsets or projections, the designated device will form a "mixed reality" for the user to engage with.
Technology journalist Robert Scoble said he follows the path of innovation in AR technology by traveling and visiting to different AR conferences around the world.
"Even the pioneers are having to learn," Scoble said. "These types of events get everybody on the same page, especially when the industry is young like this. These techniques, the technology that's coming, is so new and so different that you have to get together with people who are building media for it."
In order for attendees to get on the same page, presentations at the summit not only serve to educate the audience on what breakthroughs have emerged, but also what is in store for the future.
Sarah Downey, principal at Venture Capital and Private Equity, said AR can be used for personal usage, exploring the possibility of an AR interface to "scan micro expressions and see how people are interacting with you."
By recognizing certain types of nonverbal communication, the program could detect cues for levels of states such as truthfulness and engagement, she said.
In terms of business, Downey mentioned the technology by AR firm Paracosm, which takes a "3D capture of stations like a construction site, then compares the construction site and what's actually happening there with the 3D models in the plans."
Many students are also beginning to exhibit fascination with the AR field.
Amber Case, a research fellow at Harvard University's Berkman Klein Center for Internet and Society and the MIT Media Lab, said she believes AR will serve as a vital aid in the workforce upon further development.
"You just get this heightened reality that allows you to do your job better or allows you to fix something in crisis," said Case.
However, this new advent of technology continues to face challenges in its maturation. Sean McBeth, lead VR engineer at tech startup NotionTheory, described the precarious nature of a developing field.
"It's kind of the Wild West in terms of what works and doesn't work in VR and AR, so there aren't a lot of right or wrong answers yet," McBeth wrote in an email. "People should know they have free reign to experiment and that such experimentation is getting easier and easier every day."
Scoble also shed light on some challenges to overcome before AR reaches a level of ubiquity. He said he believes there is a necessity to shrink the physical size of the AR devices and their costs.
"The biggest challenge is getting people to see just how massively cool this technology is; you can't see it unless you put glasses on," he said.
Despite challenges, the AR community continues to discover and pave the way to a new world of possibilities.
"This whole thing is ultimately about enabling awesome people to do even more amazing things," McBeth said. "I want to see what people are working on, what excites them, what they're dreaming about. How can you not be excited for such a thing?"