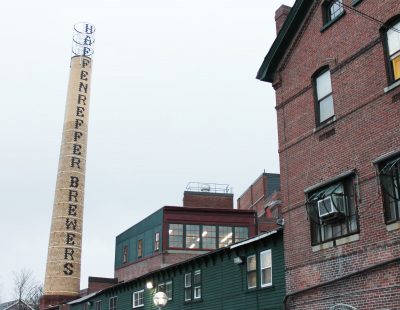 Local artist Robert Maloney prevails as the mastermind behind the historic Haffenreffer Brewery smokestack revival with his recent public art installation. The design has restored the smokestack, which has read "FENREFFER BREWERS" for the past 30 years, to proudly display its full original name, Haffenreffer.
 But the brewery has stood far longer than 30 years.
Rudolf Haffenreffer originally established the Haffenreffer Brewery in 1871. Although THE brewery survived the period of prohibition, production began to decline by the 1950s as competition from larger companies increased. This led to the brewery's official closure in 1965.
Thirty years ago, the top of the smokestack had partially crumbled due to a fire, and since then, the smokestack has been missing its first three letters, HAF, until faced with Maloney's creative expertise.
Although Maloney does not have formal training in architecture, he has created numerous bodies of work that have a grid-like structure and has experience with installation work and printmaking. His idea for the Haffenreffer Restoration Project began as a prompt in graduate school, when his professor asked him to create projects that were outside his comfort zone, to execute some mockups of ideas that did not necessarily have to be built by hand.
Maloney recalls that a suggestion he received was that the project did not have to be in scale of something that could be built in a studio, but rather something that could be a large gesture displayed in public.
"I was working on these architecturally inspired structures — my practice being expanded into the real work as opposed to coming across as either a print or a model," Maloney said.
Having grown up right around the corner from the Haffenreffer Brewery smokestack, Maloney brainstormed different ways that he could create an installation through the smokestack.
"I see it pretty much everyday and from living in the area," he said. "I've always known that it has been missing the top three letters of the signage, so I just started doing some mockups and some brainstorms on how I might be able to find a solution to restore the signage."
Once he thought of the idea, he continued to pursue it.
"The following semester, I had an artist writing class, and one of the ideas was to create a public art project, brainstorm on it, create a proposal, research some funding and take an idea to the next level," Maloney said.
Maloney continued working with the smokestack project and presented it to his class. Some of his classmates were already familiar with the project's idea because they had taken the same course the previous semester.
"It just kept getting clearer and clearer as I was writing and creating this proposal that this was something that could actually be followed through with," he said.
His next step was to persuade the Jamaica Plain Neighborhood Development Corporation, the organization running and revitalizing the brewery, to support his project proposal.
"It was not easy to get ahold of them and to get a meeting, but once I was able to show them what I had in mind, their eyes immediately lit up," he said. "It was a simple structure, and once they saw how it could be implemented, they were pretty responsive and really excited about the idea."
He credits Lisa King of the JPNDC for helping the project become a reality, Maloney said. King contributed more behind the scenes, obtaining all the permits and hiring an architect to transform Maloney's drawings and mockups into actual architectural language.
He approached the JPNDC after researching potential funders as part of his class assignment. After identifying the George B. Henderson Foundation as the most fitting potential funder for the project, learning that they provide funding for historic projects around Boston, he said he was eager to submit it.
However, the plan did not proceed as smoothly and quickly as Maloney had imagined.
"The learning aspect for me was how long the process would take," Maloney said. "Months and months would go by and little did I know that this is how long things take for a project of this scale."
After the project was proposed to the Henderson Foundation, it was met with a positive response and funding was successfully secured.
Following the completion of the Haffenreffer Restoration Project, Maloney can now walk outside or even look out from his bedroom window to see the top of the structure that was missing letters merely two weeks ago.

"The signage hasn't said 'Haffenreffer' for 30 years and before that, it was probably a smokestack that said 'Haffenreffer' for generations in the Jamaica Plain neighborhood," Maloney said. "So to restore that and to be able to restore the historical landmark is pretty exciting."