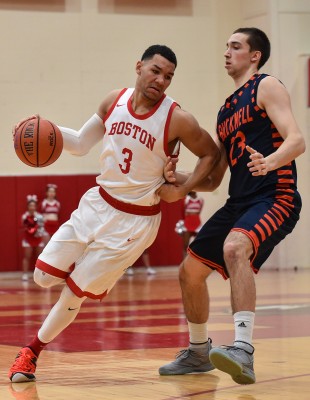 Following its first loss in Patriot League play, the Boston University men's basketball team failed to capitalize on early momentum and dropped its second consecutive game to Colgate University.
After starting the first half on fire, the walls collapsed around the Terriers (10-9, 5-2 Patriot League). With the score holding at 15-2 in favor of BU, the following 10 minutes would swing the opposite way, as the Raiders (5-15, 3-4 Patriot League) went on to outscore BU 24-to-7, resulting in a halftime score of 26-22 in favor of the Raiders.
"We have a hard time of playing consistently," said BU head coach Joe Jones. "We just tend to relax, and they were missing some shots, and I kept looking at the score and saying we need to be up more than this. We had a chance to put the game away right away, but we were just bad offensively tonight."
The Raiders capitalized on Terrier mistakes to take the lead into the locker room. Meanwhile, BU's sloppy play was compounded by the lack of shots made. Leading scorer senior guard Eric Fanning was 1-for-7 in the first half and without his production, the Terriers sank to a halftime deficit.
"In the first half, defensively, we were stellar," Jones said. "They shot 32 percent from the field and 28 percent from three. Our defense was really good."
Fanning finished with a team-high 21 points to go along with a team-leading 12 rebounds. Even though Fanning delivered, it took him 18 shots to do so, as he made just five. Senior forward Justin Alston and junior forward Nick Havener were much more efficient for BU, as they combined to go 12-for-15.
"Justin was great when he got in, and he was able to finish, that helped us," Jones said. "But without Justin's 8-for-9, if you look at the numbers, no one else really made much. Eric scored a lot but he was 5-for-18 from the field."
After falling behind by 10 with 13:15 remaining, the Terriers roared back with a Fanning 3-pointer, which he followed up with a steal, leading to a score by junior guard Eric Johnson to make the game 41-39 in favor of Colgate. BU's problems with consistency continued though, and Colgate would go on an 8-0 run to put the lead back up to 10.
BU did manage to work itself in a prime position to steal a win when an Alston jumper with 1:25 remaining cut the Raider lead to two.
After a missed 3-pointer, Colgate managed to corral the ensuing offensive rebound. Following a timeout, sophomore guard Kyle Foreman stole the ball and pushed a BU counterattack.
The result was an open 3-point attempt for junior guard Will Goff with 35 seconds left. The shot went in and out, and the Terriers were never in another position to win the game.
Finishing 20-for-57 from the field, the Terriers' struggles on offense did them in.
"When we struggled to score I think it affected us mentally," Jones said. "That's the thing that's most disappointing. You could see it in the faces, you can't let that happen, you're going to have some nights when you're not making some shots and you find ways to win."