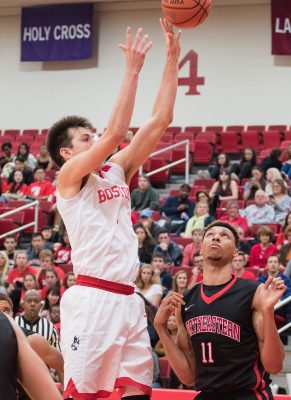 For the second consecutive game, the Boston University's men's basketball team struggled offensively, leading to a 67-58 loss to Colgate University at Case Gym.
Against Loyola University Maryland on Monday, BU (10-9, 5-2 Patriot League) saw its shooting percentage dip below 40 percent while shooting a mere six percent from beyond the three-point line. Along with its shooting percentage woes, the Terriers turned the ball over 15 times, contributing to a 77-69 loss at the hands of the Greyhounds (9-9, 3-4 Patriot League).
BU head coach Joe Jones noted how the decision making was not up to par for his squad.
"A lot of poor decisions shooting the ball and the types of shots we were taking," Jones said. "We had no flow and we began pressing, trying to get over the hump."
These difficulties surfaced again Wednesday, as BU saw its shooting percentage dip against Colgate (5-15, 3-4 Patriot League). The Terriers shot 35.1 percent from the field, while increasing their three point percentage to 25 percent.
Jones was blunt about the team's struggles throughout the game.
"We stunk it up," Jones said. "We had no rhythm offensively."
While Jones was not pleased with how his team played, he did laud the job Colgate did. The Raiders forced 11 turnovers while scoring 15 points off turnovers.
"They did a good job defensively," Jones said, "They forced us to take some shots that we need to be able to make, even though they were contested. We didn't adjust well to that."
While the Terriers were once the last remaining unbeaten team within the Patriot League, their recent struggles have seen them fall to second in the Patriot League standings.
"The first thing we need to do is understand that it's a long season," Jones said. "You're not going to play great every night."
Despite their overall offensive shortcomings, the Terriers have seen a few bright spots from individual players.  
Junior forward Nick Havener has provided BU with offensive efficiency while coming off the bench. The Saratoga, Florida native logged 20 minutes against Loyola and shot 58 percent from the field.
Against Colgate, Havener provided the same production, shooting 4-6 from the field while also grabbing six rebounds.
After the game, Jones noted how Havener was one of only two players who were able to shoot the ball at a high percentage.
Senior guard Eric Fanning has also been playing at his typical high-level.
Against Loyola, the Trenton, New Jersey native logged a team high 35 minutes while scoring 27 points as well as recording 13 rebounds and two assists. Fanning saw his biggest contribution come from the free-throw line where he recorded 13 of his 27 points.
Going forward, Jones said his formula for a victory included being more aggressive on the offensive boards and challenging his team to record at least 12 offensive rebounds. The team failed to do so on Wednesday and only recorded seven.
Jones also noted how the Terriers lack of efficiency on offense impacted them on the defensive end of the floor as well.
"Once we struggled to score it began to affect us mentally," Jones said. "That's the most disappointing thing that when we struggle offensively it affects us defensively."