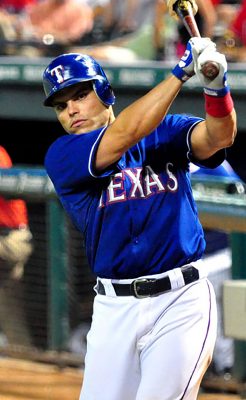 The Baseball Writers Association of America officially inducted three more members into the Baseball Hall of Fame Wednesday afternoon: Tim Raines, Ivan Rodriguez and Jeff Bagwell. With the results, the pendulum has inevitably swung away from barring all steroid users from entering the Hall in Cooperstown, New York.
Along with the election of Raines, Rodriguez and Bagwell came the uptick in voting percentage for two players synonymous with the steroid era: Barry Bonds and Roger Clemens. Finishing with 44.3 percent a year ago, Bonds saw an increase of 9.5 percent on Wednesday, as he finished with 53.8 percent. Clemens was a few decimals higher, finishing with 54.1 percent of votes — an 8.3 percent increase from last year's 45.2 percent.
And while Sammy Sosa earned just 8.6 percent of votes despite being linked to steroids in the same era as Bonds and Clemens, the trend is clear: steroid users will eventually be elected to the Hall of Fame.
The linkage between Bagwell, Rodriguez and steroids is almost undeniable. Bagwell has long been suspected of performance-enhancing drug use due to the jump in his numbers: he went from hitting 20 homers in 1993 to 39 a season later.
Rodriguez averaged 20 homers per season in his 21-year career. However, his stats jumped off the page between 1996 and 2001, when he crushed 147 homers in six seasons.
With both Hall of Famers linked forever to PEDs and the standard set for steroid-tainted stars, the question now becomes not "do we let steroid-users in," but, "which users do we elect?"
Now let me be clear, I do not think using steroids should automatically disqualify a player from the Hall of Fame. However, I do think they should be a big detraction.
There are players that would have been Hall of Famers without steroids. Rodriguez and Bagwell are perfect examples of that. Before his statistical explosion in 1996, Rodriguez was already a four-time All-Star catcher, had won four Gold Gloves, a pair of Silver Sluggers and finished fourth in Rookie of the Year voting.
In 1994, "Pudge" won his first of six consecutive Silver Sluggers, and hit just two points below .300. Rodriguez was already on his way to Cooperstown before he allegedly took steroids, which is why he gets in.
Bagwell's case is similar. As a rookie in 1991, Bagwell won Rookie of the Year and would have been a unanimous selection had he received one more vote. He also finished in the top 20 of MVP voting in two of his first three seasons with the Astros, with whom he spent 15 years. In his rookie season, he was just shy of hitting .300 and ended up crafting a .320 average in 1993.
Bagwell looked like the next thing in baseball, and he was. Without steroids, the numbers and the eye test show he most likely still would have been. That's why he gets in.
It is largely believed that Barry Bonds began taking steroids after the 1998 season, sending the slugger into a league of his own where he enjoyed nine seasons with highs of 73 homers, 232 walks and a .370 batting average. And while many pundits write Bonds off because of the allegations, the former San Francisco slugger was well on the path to greatness before 1998.
Five years earlier, in 1993, Bonds led the entire league in both home runs and RBIs with 46 and 123 respectively. A year before, he led the league in runs and also led the MLB in walks in five seasons between 1992 and 1997. Despite being one of the poster children for PEDs, Bonds should still be enshrined in Cooperstown because of his laundry list of pre-1998 accolades.
Roger Clemens was a long-time member of the Boston Red Sox before shipping off to Toronto, New York and Houston in his 24-year career. While Clemens' stats began to reach newfound heights after allegedly taking steroids with the Blue Jays, his time as a member of the Sox should be enough to give him a Hall pass.
Before taking PEDs, Clemens had already captured three CY Young awards and was a five-time All-Star. One of the most premier pitchers in the MLB during his time in Boston, Clemens led the league in shutouts five times in six years between 1987-1992. He totaled more than twenty wins three times in Boston, twice leading the league with 24 wins in 1986 and 20 the following season. Clemens greatest accomplishment though came in 1986 when he struck out 20 batters in a game, tied for an MLB record.
Without steroids, Clemens probably would have tapered off a lot sooner, but he still would have been an all-time great, which is why he should get a call to the Hall.
Steroids and the Hall of Fame are two words that always lead to a lot of divisive conversations between baseball experts everywhere.
However, with the election of Bagwell and Rodriguez to Cooperstown, the debate is over. Now, instead of keeping all steroid users out of the Hall, we must maintain the integrity of the game by barring those unable to succeed without PEDs, while accepting those who used but still had top of the line talent. And yes, that includes Bonds and Clemens.