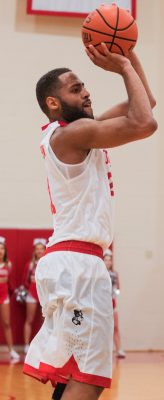 The Boston University men's basketball team will look to get back in first place in the Patriot League when it travels to Bucknell University on Saturday.
The Terriers (10-9, 5-2 Patriot League) are one game behind the Bison (14-6, 6-1 Patriot League) in conference standings after the two teams had opposite results in their respective games on Wednesday night. BU lost to Colgate University 67-58 at Case Gym, and Bucknell defeated Loyola University Maryland 76-63 at home.
The Terriers have struggled on the road this season, going 2-7 away from Case Gym. They have been plagued by slow starts on the road, most recently against Loyola (9-9, 3-4 Patriot League) on Monday when they fell behind 20-5 just six minutes into the game.
BU head coach Joe Jones said his team cannot afford to fall behind early.
"It's really important [that the Terriers start well] because we've fallen behind in some of our road games this season," Jones said. "It makes it hard to come back from, so we have to be ready to go on Saturday from the start."
Not falling behind early is important against the Bison, as they have the third-best shooting defense in the conference, allowing opponents to score 68.8 points per game on 43.8 percent.
Center Nana Foulland anchors the Bucknell defense, blocking a conference-high two shots per game. To go along with his defensive prowess, he puts up 14.6 points and grabs 8.4 rebounds per game.
Despite Foulland's prowess, Jones said BU has to focus on its own strategy.
"[Foulland] is a great defender, but we try not to pay too much attention to what the other team is doing," Jones said. "We have to focus on ourselves and how we're going to win, but we have to be wary of him. Our shooters are going to have to have a big game because he makes it hard in the paint."
The Terriers rank fourth in the Patriot League in 3-point field goal percentage at 35.9 percent and second in 3-pointers made per game with 9.1. Meanwhile, the Bison rank sixth in 3-point defense, allowing opponents to knock down 36.4 percent of their attempts from distance.
Junior guard Cedric Hankerson and freshman forward Tyler Scanlon will play a big role in stretching the floor and opening the paint for their teammates. Hankerson hits 35.9 percent of his threes and is first in the conference in 3-pointers made per game with 2.8, and second in 3-point percentage. Scanlon hits 39.3 percent of his shots from deep and ranks 11th in the Patriot League in 3-pointers made per game with 1.8.
"I've been happy with Hankerson's contribution this season," Jones said. "One thing he has to work on is realizing how good of a player he is. He's a great rebounder, defender and passer, so he has to improve in other ways other than just shooting."
On the other end, Foulland is just one of four Bison to score in double digits — forward Zach Thomas averages a team-best 15.5 points per game, while guards Kimbal Mackenzie and Stephen Brown are also in double figures.
Last season, BU went 0-2 against Bucknell, losing the first game in a tight contest at home and the second in a blowout on the road.
"We can't compare ourselves to other teams because right now first place doesn't mean anything," Jones said. "We were in first place yesterday and now that means nothing. It's all about looking at how we can improve, but [Bucknell's] a great program and well-coached, so we have to be ready to go."