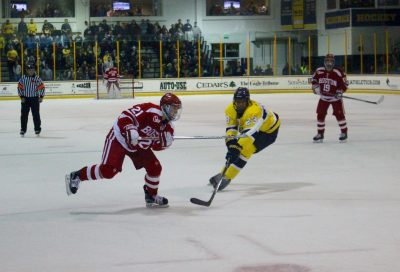 Chalk it up to the squad's new No. 1 ranking, the tight neutral zone at Lawler Rink, the fact that sophomore defenseman Charlie McAvoy got tossed in the second period, tired legs – whatever you want, really.
Whichever reason you come up with, though, the fact remains: The Boston University men's hockey team was out-skated, outworked and out-hustled on in Tuesday night's 3-1 loss at Merrimack College. There was as bright spot – freshman defenseman Chad Krys scored on BU's first shot of the game – but it was downhill from there on out.
"I know sometimes there's a lot more than goes into this game, but [compete and skating] are the basis and foundation of any team winning," BU head coach David Quinn said. "We didn't do anything near that enough to win tonight."
Most poignantly of all, Quinn added that the Terriers (16-6-2, 9-3-2 Hockey East) had their worst practice on Monday during his three-plus years at the helm, and that carried into their showing against Merrimack (9-13-3, 3-7-3 Hockey East).
Purely from a results standpoint, BU saw its eight-game winning streak snapped. But, for senior defenseman and captain Doyle Somerby, a larger point loomed.
"It's a pretty humbling loss, but it definitely started yesterday [in practice]," Somerby said. "We got a little cocky with the rankings and everything and the eight-game win streak we've been on. It definitely got to our heads a little bit."
Merrimack scored three unanswered goals – Mathieu Tibbet the first, Logan Coomes the second and Hampus Gustafsson the third – and BU was outshot, 36-31. Even when the Terriers did get the puck through to netminder Collin Delia, most were fired from the point.
If those marks weren't worrisome enough, 2:26 into the second stanza, McAvoy barreled Merrimack's Tyler Irvine, a fourth line winger, into the boards. The refs deliberated near the scorer's box, but ultimately gave McAvoy a game misconduct and five-minute major.
From there on out, the Terriers had to play with five defenseman, but Quinn downplayed that part.
"We were already well on our way to losing a lot of battles and not skating, so I don't know how much of a role that played," Quinn said.
What certainly played a role, though, was the fact BU was playing at Lawler Rink. With the loss, the Terriers are now 0-3-1 in their last four visits to Merrimack's barn.
"It's really hard to play here," Somerby said. "Small ice, they're a big team, physical team and they just got swept versus Northeastern. They definitely were better than us tonight."
Looking down the road, Somerby said that BU needs to reevaluate what sparked its impressive run in the first place. It has to find answers quickly, too, as Merrimack visits Agganis Arena on Friday night and No. 7 University of Massachusetts Lowell visits on Saturday night.
"I have to look myself in the mirror some and step it up a notch in all aspects and be a bit more vocal," Somerby said. "Just going to go in together and reorganize. We still have a nice little chunk of games coming up."
Quinn, meanwhile, added much of the same about BU's immediate future: "We have to play much better. We have to go back to the things we've been doing for awhile. We can't take anything for granted, we can't take a day off. This league's too hard."