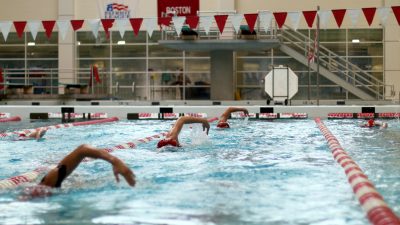 The Boston University men's and women's swimming and diving teams both found success throughout their meets this past weekend.
On the men's side, the Terriers defeated American University and George Mason University. BU beat the Eagles by a score of 238-56 while defeating the Patriots 164-135. The Terriers did suffer a defeat at the hands of the United States Military Academy 180-117.
Sophomore Trevor Winans paced the Terriers, earning three first-place finishes. The Orland Park, Illinois native was victorious in the 200-meter free (1:38.80), 100-meter free (45.75), and the 500-meter free (4:32.28).
Junior Garrett Chin also contributed to the success, placing first in both the 200-meter butterfly and 200-meter backstroke. Junior Daniel Andronov was the only other Terrier to secure a victory, coming in the 100-meter breaststroke with a time of 56.23 seconds.
The women proved to be more successful, defeating American, George Mason and Army. The Terriers scored big victories against George Mason (188-109), and American (246-50), while barely edging Army 159-140.
The Terriers recorded eight first-place finishes on the day, led by seniors Kalli Roebelen and Sarah Hargrave.
Roebelen placed first in the 1-meter dive and the 3-meter dive. Meanwhile, Hargrave was victorious in 1,000-meter free and the 500-meter free.
In addition, freshman Meghan Egan placed first in the 200-meter free, sophomore Julimar Avila placed first in the 100-meter butterfly and sophomore Erin Nabney placed first in the 200-meter individual medley.
BU men's and women's swimming and diving will look to continue their hot streaks when they take on Boston College on Jan. 28.
Men's tennis sweeps weekend doubleheader
Men's tennis dominated this weekend to begin the 2017 season, sweeping both of their matches.
The first win came against Southern New Hampshire University. The Terriers were victorious in two out of three doubles matches, both by scores of 6-2, opening up a 1-0 lead. In singles, BU received all six points en route to winning their first match of the day.
Senior Lucas Bombonatti paced the way for the Terriers, victorious in both singles and doubles.
In the second match, against Siena College, BU saw much of what the morning had brought.
The Terriers easily handled the Saints in doubles, outscoring them 18-5.
BU continued its success in singles, sweeping all six matches to move to 2-0 on the day.
Against Siena, senior Mario Sandoval led the way, winning in straight sets 6-1, 6-1.
Men's tennis will look to stay undefeated when it takes on Quinnipiac on Jan. 29.