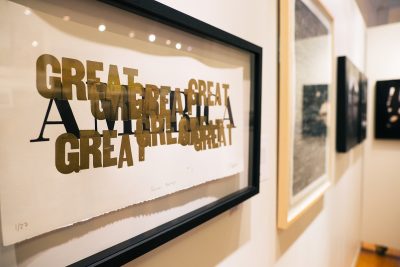 Along with several other post-inauguration gatherings, 13FOREST Gallery held an opening reception for its current exhibition, "Transition of Power: 2017" on Saturday. This is an exhibition dedicated to showcasing artistic voices in response to the current state of American politics.
According to 13FOREST's website, the "Transition of Power: 2017" exhibition features Boston-area artists John Campbell, Asia Kepka, Mark Luiggi, Ted Ollier, Dimel Rivas, Sarah Rushford, Jason Wallace and eBay. The gallery displays art through a wide range of media, such as photography, sculpture, printmaking and painting.
The exhibition has been thoughtfully curated, making the most of its white walls and gallery space. When walking into the gallery, one's eye immediately gravitates toward a wall that displays paintings from floor to ceiling. The gallery also showcases pieces of porcelain and jewelry.
Co-owner Marc Gurton is a Boston University alumnus who graduated from the School of Management in 1985. While he worked as an accountant for 20 years, Gurton but always had a passion for art, which he said he believes stemmed from his mother, a graduate of BU's College of Fine Arts.
When the accounting company Gurton worked for was sold, he decided to take a trip to Europe.
"Right when I got back, I met a woman who owned an art gallery in Medford Square and she needed help with her books, so I helped her do her accounting," Gurton said.
From then on, he suggested the gallery to add more variation of pieces, but the owner preferred not to do it herself. This inspired him to execute the idea on his own.
"She was happy to have us do it because she wanted to continue the space as an art space," he said. "It just grew from there, and we went to a lot more shows around town and met more artists."
Boriana Kantcheva is an artist who has worked with 13FOREST in the past. This time, Kantcheva came as a fellow supporter of the artists in the show.
"I think the exhibition shows a really nice combination of pieces — some of them are more conceptual, while others are more narrative, but they all support the theme very well," Kantcheva said. "The eBay pieces are very in your face and Ted's piece is very subtle, but overall, it's a great show."
The results of the election in November pushed Gurton, co-owner Jim Kiely and gallery director Jillian Wertheim to take action in the form of art.
"At this time, a lot of people who were against the new administration were feeling very frustrated and kind of hopeless and helpless, and it's hard to figure out what to do," Gurton explained.
Kiely then said he realized the perfect way to channel this frustration was through art, and as a team, they knew they could make that possible.
"So rather than roll over and play dead, we decided that we should actually have a show that gives local artists an opportunity to give their voice on what their interpretation of the recent political developments and inauguration are," Kiely said.
As mentioned on 13FOREST's website, playwright Harold Pinter says "Sometimes a writer has to smash the mirror — for it is on the other side of that mirror that the truth stares at us."
Gurton further builds upon this idea with his statement, "Artists have always been mirrors of society, so it reflects back on all of us."
They hope that the exhibition will "generate meaningful discussion and productive action amongst artists, citizens and our governing bodies."
"Artists have historically been engaged in producing works of art that gets to some sort of greater truth about us all," Kiely said.
A percentage of the exhibition's proceeds will be donated to the American Civil Liberties Union of Massachusetts, as they decided that it would be best to donate to an organization that does national work because of the countrywide nature of the issue.  In addition, the ACLU will be sending a guest speaker to 13FOREST in February to talk about civil rights in the arts community.
"The greater truth overall in this show is that we as Americans have very tenuous anchors in civil rights and the anchors can easily be pulled up," Kiely said. "[President] Donald Trump in his own words is more than willing to actually pull the anchors up himself."
This article has been updated.