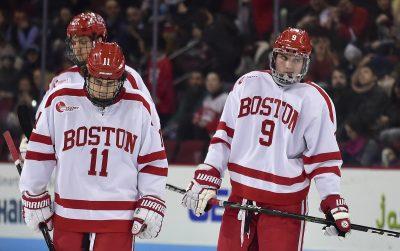 You'd be hard-pressed to find anyone – save for inside Lawler Rink – who predicted Merrimack College could sweep the Boston University men's hockey team.
After all, the Terriers were the nation's newest No. 1 team, all while the Warriors sat bottom in the Hockey East standings. But Friday night's 4-1 win for the boys from North Andover guaranteed they'd steal all four points from the regular-season series.
The loss came just three days after BU was dispatched, 3-1, at Merrimack's barn. The back-to-back defeats marks the first time the Warriors have ever swept the Terriers.
"Nobody wants things hard, nobody," said BU (16-7-2, 9-4-2 Hockey East) head coach David Quinn. "Everyone wants it easy. In every aspect of life we all want it easy. You're playing the wrong sport if you want it easy, and we wanted it easy tonight."
Perhaps the game's early goings served as an omen, with junior Brett Seney beating goaltender Jake Oettinger 6:25 into the contest. Facing an early 1-0 deficit, the Terriers answered back through freshman forward Clayton Keller.
While on the power play, Keller, who now owns a 12-game point streak, collected a rebound in the left dot, beating a sprawling Collin Delia to knot the score at 1-1.
After then, though, Merrimack (10-13-3, 4-7-3 Hockey East) dominated in all facets of the game.
"It's not the best mood in the locker room right now," said sophomore forward and assistant captain Jakob Forsbacka Karlsson. "Six days ago we felt like we were on top of the world, and now it changes quickly. It's a new day tomorrow, so we have to try and reset."
Seney, a New Jersey Devils draft pick and a constant thorn in Oettinger's side, made it 2-1 about 13 minutes into the second frame. Piggybacking on Seney's star showing, it was then forward Michael Babcock's turn to drive the knife deeper.
The junior added two goals in the third period 4:20 apart, with the first shorthanded and the other while he was clean in on Oettinger.
With the 4-1 result looming, clear frustration settled in for the Terriers and few of Delia's 37 saves were from Grade-A chances. Oettinger, on the other hand, was beaten four times glove side and received little help from his teammates.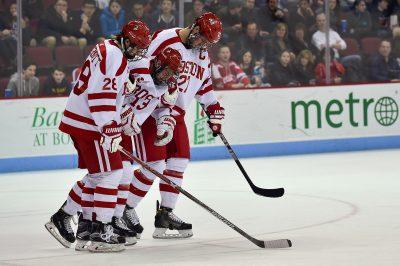 "I take every loss on my shoulders," Quinn said. "It's the tough part about this sport. When you win you don't feel like you had anything to do with it, and when you lose you feel like you have everything to do with it."
As sullen as BU's locker room was postgame, perhaps the most disheartening piece of news came 12:13 into the first period.
Junior forward and assistant captain Nikolas Olsson went down in the corner, unable to put any weight on his right leg. He was helped off the ice and quickly ushered down the tunnel, and Quinn was visibly shaken when asked about Olsson's status.
"It's not good, it's not good," Quinn said. "We don't know for sure, but it's not good."
Looking down the road, the task before BU won't get any easier, as No. 7 University of Massachusetts Lowell comes to town Saturday night. The River Hawks (15-8-3, 7-6-1 Hockey East) have lost three consecutive games, but Quinn said his team can no longer afford to be combative for spurts.
Forsbacka Karlsson, meanwhile, was honest about what needs to happen against Lowell.
"Everyone needs to look at themselves in the mirror and try and bring it themselves to get back to where we were last week," he said.