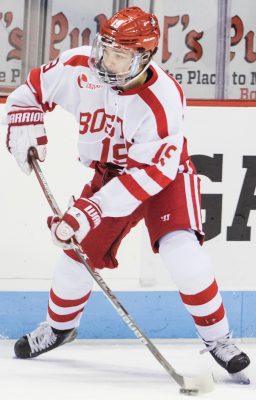 When the No. 1 Boston University men's hockey team takes to the ice at Agganis Arena this weekend, it will be in a somewhat foreign spot: looking to recover from a loss.
In fact, when Merrimack College snapped the Terriers' eight-game win streak on Tuesday, 46 days had passed since the scarlet and white left the rink with anything less than a full two points.
"I think it's an eye-opener," said sophomore forward Bobo Carpenter. "[The loss] didn't need to happen, but now that it happened, I think everyone is that much more focused. You never want to lose. I think everyone is just ready to get going again and get another streak going."
Unfamiliar feelings aside, BU (16-6-2, 9-3-2 Hockey East) made it crystal clear that Friday night's rematch with Merrimack (9-13-3, 3-7-3 Hockey East) and Saturday evening's clash with No. 7 University of Massachusetts Lowell are about getting back to business.
As head coach David Quinn said, there's no time to dissect every little detail of the 3-1 loss at Lawler Rink.
"We've done a good job of living in the moment and not getting consumed with what happened before or what not," Quinn said. "Hopefully we've moved past Tuesday night, nothing we can do about it now."
What BU can do, though, is find ways to counter Merrimack's physical style.
It caused the Terriers fits on Tuesday, especially in taking away space from creative players such as freshman forward Patrick Harper and sophomore forward Jakob Forsbacka Karlsson.
The larger surface at Agganis should afford them more scoring opportunities, but Collin Delia, the Warriors' netminder, showed he's no slouch, as he posted 30 saves against BU. With some home cooking in order, however, Quinn remains confident that his squad can reverse its fortunes against Merrimack.
"It's funny, not that we don't prepare for teams, but we're practicing and doing things that we want to do well over and over again," Quinn said. "That's kind of been our theme and what we want to do. We had a good practice today, and hopefully we can clean up some of the things we didn't do well, which was everything on Tuesday."
While Friday's tilt poses its own challenge, Lowell's (15-7-3, 7-5-1 Hockey East) visit represents an entirely different animal. The River Hawks sit tied for fifth place in the conference standings — three slots behind BU — and are as complete a team Quinn and his players will face all season.
For starters, Lowell's goaltender, Tyler Wall, boasts a .921 save percentage and has eased the loss of Kevin Boyle to the Anaheim Duck's organization. The River Hawks' strength, however, might lie in a quartet of upperclassmen that are tried and true Hockey East stalwarts.
Forwards Joe Gambardella, John Edwardh and C.J. Smith and defenseman Dylan Zink all have surpassed the 20-point mark. The key player is Gambardella, whose 34 points is tied for eighth-best in the nation.
Keeping with the national picture, Lowell shines on special teams. Its success rate on the powerplay (24.35 percent) is fourth-best in the NCAA, while its penalty kill success rate (85.9 percent) is 12th-best in the country.
"Lowell, they're very tough, probably one of the best-coached teams I've played in all four years here so far," Roberto said. "They play to their structures really well, they're really good defensively, they're big, they're not going to out-flash you. They're just going to work really hard."
As much as Roberto praised Lowell, several elements are falling into place that should help the Terriers slowly return to their winning ways.
They're 8-1-1 at home, freshman goaltender Jake Oettinger will be returning to the pipes against Merrimack and freshman forward Clayton Keller owns an 11-game point streak. Junior forward Nikolas Olsson should feature, too, Quinn said, after he missed Tuesday's game with an upper-body injury.
All things considered, then, Roberto didn't hold back when explaining what BU's mentality must be.
"We have to get our swagger back," Roberto said. "Two years ago when we made that run to the national championship we came in, we had good swagger. We just have to compete harder day in and day out, can't take anything for granted."
Carpenter, meanwhile, echoed much of the same.
"I think every night we just have to show up no matter what the team is," said Carpenter. "Never underestimate your opponent. That's one of my favorite sayings. Every night we just have to come out flying and do what we do what we do best, just like we did for that streak."