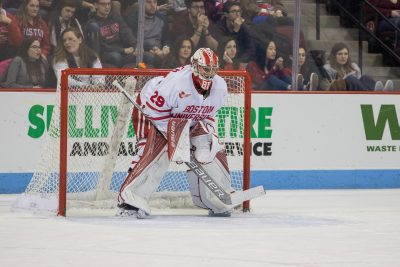 For the No. 1 Boston University men's hockey team to stop its two-game skid, head coach David Quinn knew someone would have to step up to the plate.
That responsibility would be no walk in the park, either, as No. 7 University of Massachusetts Lowell – a squad that's recently given the Terriers fits – visited Agganis Arena on Saturday night. It also didn't help that the River Hawks sought to end their own three-game losing streak.
When the final buzzer sounded, though, BU earned a 4-2 win, and one player answered the call with fanfare: freshman goaltender Jake Oettinger.
"There are great goalies at our level, and we've got one of them," Quinn said. "Most teams in college hockey have a pretty good goalie, and you saw two really good ones tonight."
The 6-foot-4, 205-pound netminder was electric throughout, posting 33 saves. While the sheer amount of stops raised eyebrows, several were of the highest order.
Oettinger's first SportsCenter-worthy play came midway through the second frame, when junior John Edwardh burst in on goal. Killing off a BU (17-7-2, 10-4-2 Hockey East) penalty, Edwardh deked right onto his backhand, only for the U.S. National Team Development Team product to stonewall him.
"My job is to step up when my name is called, and fortunately I did that tonight," Oettinger said. "I thought I got better as the game went on, and it just was a really good win for our team."
If the save on Edwardh wasn't enough, Oettinger robbed forward C.J. Smith with 10 seconds left in the second frame, preserving a 1-1 scoreline ahead of the last period.
Come the final 20 minutes, BU exploded offensively, winning the final frame, 3-1. Sophomore forward Bobo Carpenter potted twice, while freshman forward Clayton Keller – who now owns a 13-game point streak – added the eventual game-winner.
However, if it weren't for Oettinger's calming presence between the pipes, a much different narrative could have unfolded.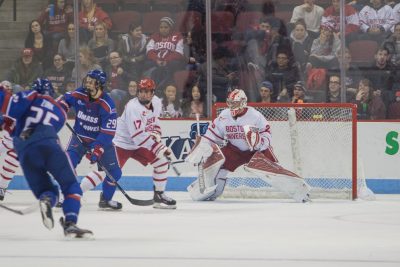 "That kid was excellent," Lowell (15-9-3, 7-7-1 Hockey East) head coach Norm Bazin said of Oettinger. "He was the first star of the game. He was the best player on the ice tonight."
As strong as the Lakeville, Minnesota native was Saturday, Lowell did twice find a breakthrough.
Ryan Lohin, a freshman forward, scored 8:36 into the game, ripping a shot on the power play bar down. Smith made it a 3-2 game with 3:57 left in the contest, setting the stage for a hairy finish. But, as has become customary across the 2016-17 season, Oettinger remained calm, cool and collected, pushing the Terriers back into the win column.
Praise for Oettinger flowed postgame, but one night prior he was admittedly porous between the pipes.
In BU's 4-1 loss to Merrimack College on Friday, the freshman was beaten repeatedly glove side. Against the River Hawks, though, the Agganis crowd witnessed the version of Oettinger that ranks top-five nationally in goals against average and save percentage.
In other words, normalcy returned.
"Especially as a goalie, you need to prove yourself every game," Oettinger said. "You're only as good as your last game, so I think for me it's never getting too high or too low. Just trying to be consistent for the guys in front of me and for our team is something I really try to do. It's a huge bounce-back win for us."