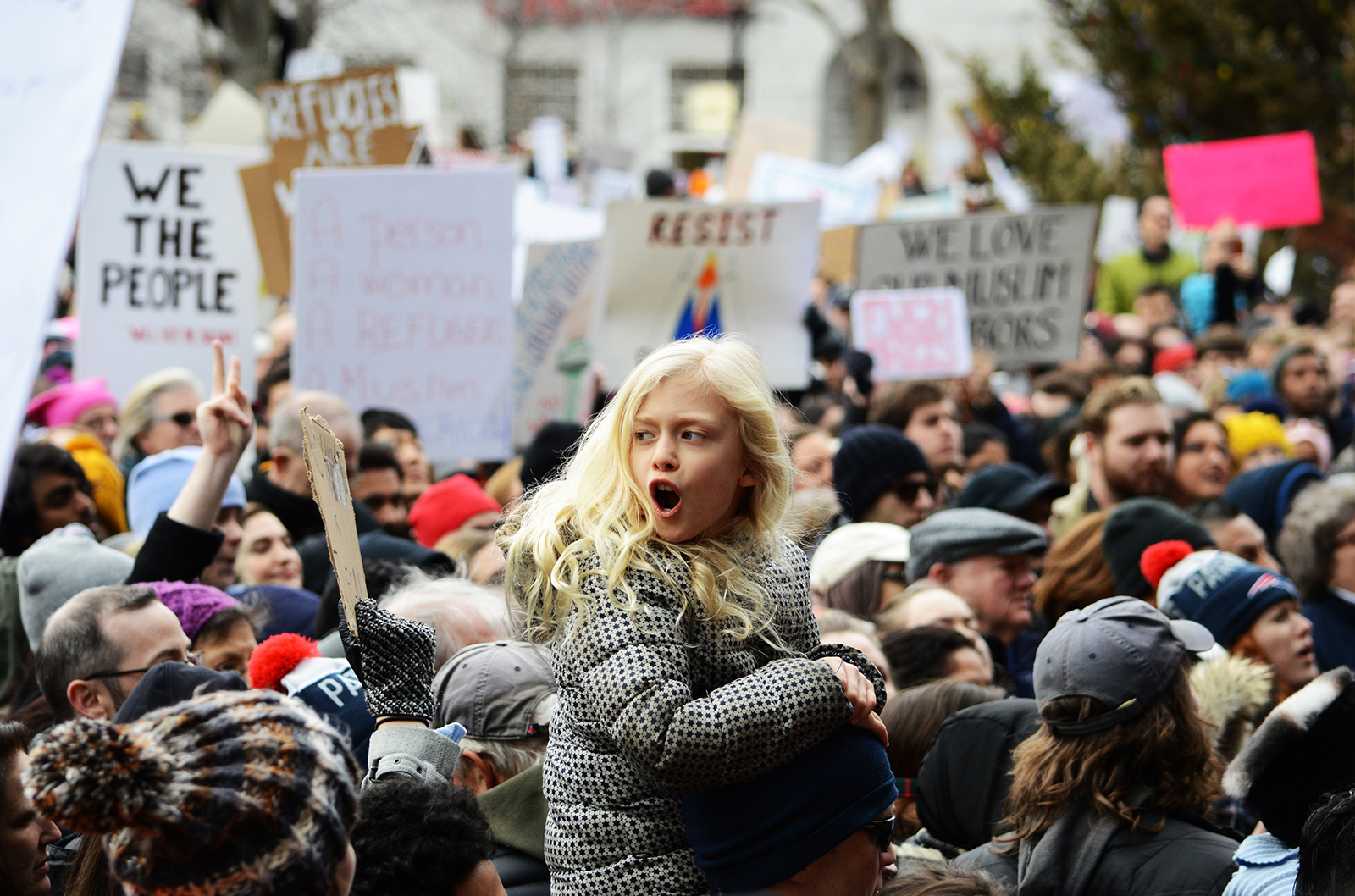 Approximately 20,000 protesters rallied at Copley Square Sunday afternoon and demonstrated against President Donald Trump's traveling ban on seven Muslim-majority countries.
The Boston Protest Against Muslim Ban and Anti-Immigration Orders rally was organized by the Council on American-Islamic Relations Massachusetts, a chapter of America's largest Muslim civil rights organization, according to the group's Facebook page. 
The rally was held at Copley Square in front of Trinity Church. Children as young as five years old held signs and waved flags on top of their parent's shoulders, while fellow protesters were designing their signs on the side of the street with markers and cardboard.
Chants like "No hate, no fear, immigrants are welcome here" and "Stand up, fight back" rang loudly throughout the crowd as protesters waited for the event's speakers.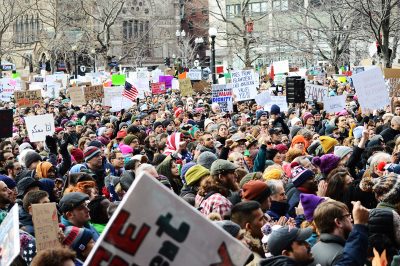 Boston Mayor Martin Walsh, Massachusetts Sen. Elizabeth Warren, Massachusetts Sen. Ed Markey and CAIR Massachusetts Executive Director John Robbins spoke to the crowd during the rally.
Walsh began his speech by asking the crowd to turn to their neighbors and express acceptance of them.
"Discrimination against immigrants is wrong, it is unconstitutional," Walsh said. "This is a betrayal of the American values, betrayal of cities like Boston, betrayal of our Muslim brothers and sisters."
Walsh recalled the messages of unity delivered within the U.S. Constitution as a basis for protecting immigrants in the city. He emphasized that it is "our duty [and] our values" to stand together in solidarity. 
Warren then took the crowd by surprise when she stood to speak. As her plans to attend the rally were never announced publicly, participants were visibly shocked by her appearance.
Warren recounted a personal experience of her time in Lesbos and her connection to a young Syrian girl there.
"I saw the paper thin rafts that the refugees arrived on," Warren said. "I saw the plastic flotation devices that parents made for their children, in hopes that they would be able to stay alive."
Warren said Trump is trying to put a ban on little girls like the one she knew, and as a result, the city will "fight back."
"This is not about terrorists — this order is about religious tests," Warren said. "The United States does not impose religious tests on people. Remember, an attack on one is an attack on all."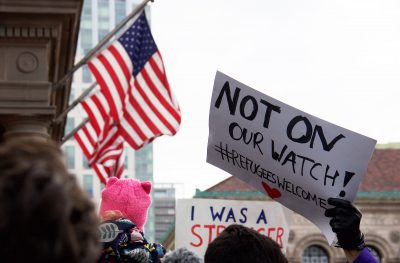 Warren finished her speech with a fist bump into the air, and Markey followed up by yelling, "Lady Liberty is weeping at Donald Trump's executive order" into the microphone.
Several of the politicians and speakers urged the crowd to keep fighting because "we are the revolutionaries of freedom." 
Religious representatives from the Muslim, Jewish and Christian community all gave speeches about remaining united.
"I come here today to support this community not in spite of my faith, but because of it," Rev. Laura Everett said. "There is nothing Christian about banning refugees." 
Later in the rally, leaders held a Muslim prayer in the square. Members of the Muslim community whispered the prayer to themselves, while others bowed their heads in silence.
Eventually, protesters poured out into the streets to march and chant. Others remained in the square and continued to participate in the prayer.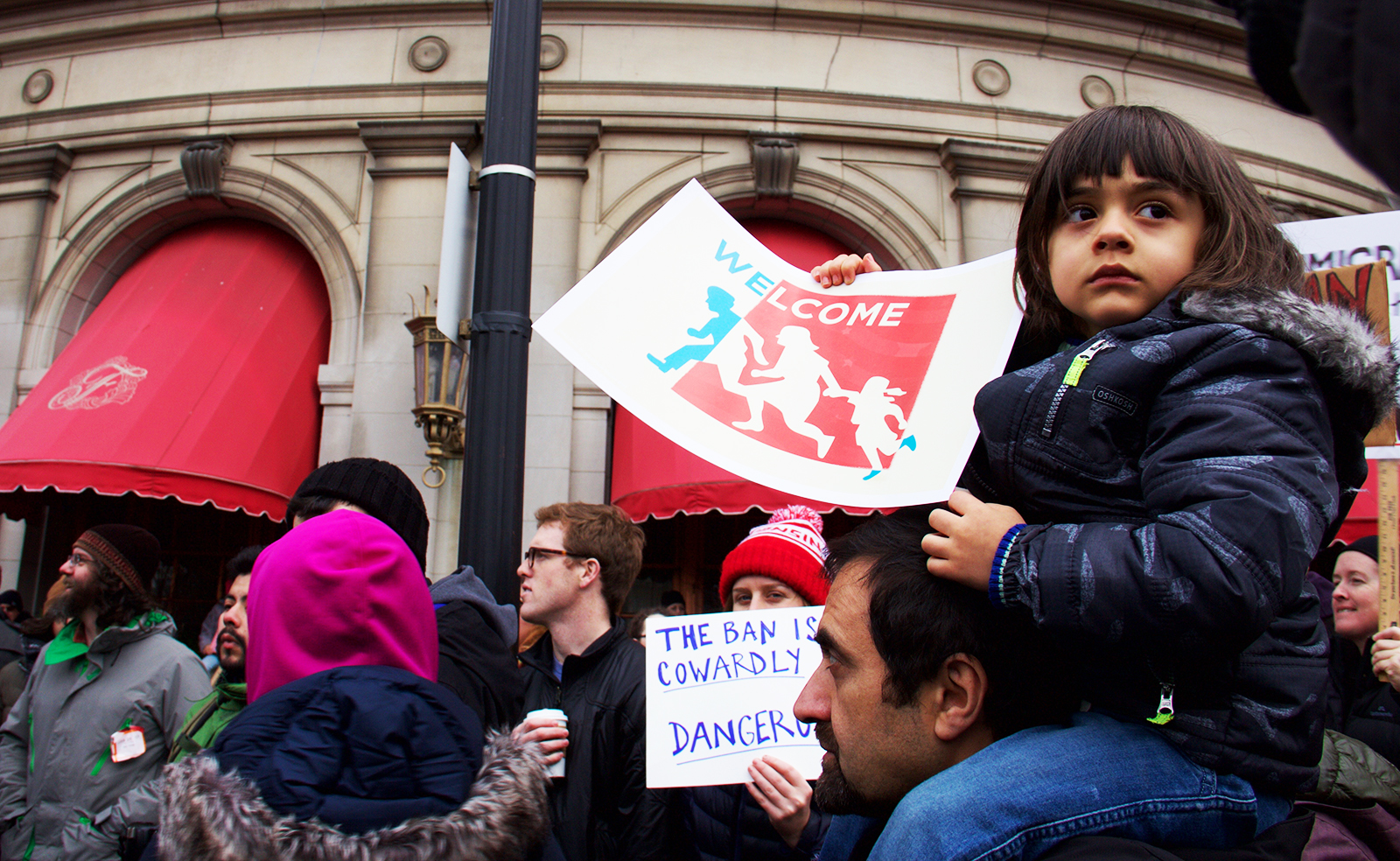 Several participants expressed their opposition to the immigration ban.
Vanessa Ogbeide, 23, of Allston, said she was emotionally distressed by the situation, highlighting her personal experience with the immigration process.
"I am truly heartbroken because a lot of people aren't from this country," Ogbeide said. "I wanted to come out here to make my voice heard. I am an immigrant, my parents are immigrants and we contribute to this country. We are not less American than anybody else." 
Ogbeide further emphasized her disapproval of Trump's executive orders.
"I think they're unconstitutional," Ogebeide said. "I think they're un-American. I don't think that's what this country represents."
Nacho Nwana, 18, of Cambridge, said he was happy with the turnout of the rally and was encouraged by the presence of people who are passionate about immigration rights.
"It is great that this many people are passionate about social activism and what is going on," Nwana said. "It is a brilliant testament to how up-to-date the Boston people are on current issues."