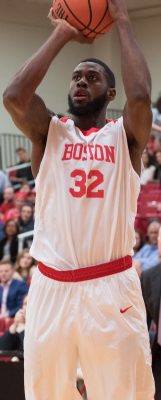 After coming agonizingly close to losing its previous game, the Boston University men's basketball will look for a more comfortable margin of victory Monday night at Lehigh University.
In their previous tilt, the Terriers (11-10, 6-3 Patriot League) defeated the United States Military Academy 90-89. However, the Black Knights (8-14, 2-8 Patriot League) had the opportunity to win in the closing seconds of the game. Unfortunately for them, guard Jacob Kessler missed two out of three free throws after being fouled by senior guard Eric Fanning at the buzzer, and BU held on for a one-point win.
"We did what we needed to do to win the game, and we could easily have lost it," said BU head coach Joe Jones. "We played pretty hard in the game. We just didn't always play smart. We have to get away from some of the silly mistakes we made during the game — the costly turnovers, poor decision making. Outside of the mental errors, I was happy with our effort, and we played very well offensively."
This will not be the first time the Terriers and Mountain Hawks (12-8, 6-3 Patriot League) have met this season. In its first matchup, BU had a lead that was never truly threatened and coasted to a 75-61 victory. It had 10 players score in a very balanced effort, with senior forward Justin Alston leading the way with 14 points and a game-high nine rebounds.
Lehigh had three players in double-digit scoring, but not much else. The unquestioned star of Lehigh is senior Tim Kempton, the two-time Patriot League Player of the Year, who is having his best year yet.
Currently averaging over 20 points and 10 rebounds a game, Kempton is an absolute force down low for the Mountain Hawks.
Looking to combat Kempton will be BU big men such as Alston and freshman forward Tyler Scanlon. Scanlon has gone from a key piece on the bench to a bonafide starter, having his best game as a Terrier in the game against Army, as he scored 17 points in 36 minutes. He hit several clutch shots for his team and went 4-6 from the 3-point range.
"I had been talking to him about how he could impact the game when he's not making shots," Jones said. "He was excellent in the game, played the most minutes and he really defended well in this game."
Behind the 3-point line is where BU was able to capitalize against Lehigh in its previous contest, with the Mountain Hawks only converting on eight of their 30 3-point attempts. This was a far cry from its season average, as Lehigh boasts a 41.3 3-point percentage, by far the highest percentage in the Patriot League.
"They're not going to shoot as poor this time, so we have to be ready to mix in our defenses and possibly play some man-to-man at times," Jones said. "They're awfully balanced with Kempton on the inside and all those shooters on the outside."
In order to string together consecutive wins the Terriers will have to replicate the defensive performance they previously exhibited. The win against the Black Knights broke a three-game losing streak, and Jones hopes to have his players operating closer to the team that started out Patriot League play with five straight wins.
"The next couple weeks will really spell out where we are," Jones said.  "We went through a three game stretch where we played so poorly offensively it put pressure on our defense. We need better balance. We can shoot a high percentage, which I know we will, but we need to learn from our mistakes defensively so that during these next nine games we can put it all together."