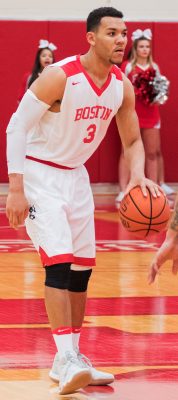 The Boston University men's basketball team started the second half of its Patriot League schedule with a win, defeating Lehigh University 76-59 on the road Monday night.
The Terriers (12-10, 7-3 Patriot League) and Mountain Hawks (12-9, 6-4 Patriot League) previously faced off on Jan. 2, with BU picking up a 75-61 victory.
This was BU's first time sweeping Lehigh since entering the Patriot League in the 2013-14 season, as the two teams had split in previous season series.
In a complete-game effort, the Terriers used a suffocating defense, forcing 20 turnovers, and an efficient offense, shooting 46.2 percent, to pick up their best win of the season.
BU head coach Joe Jones was quick to point to his team's bench and intensity as reasons for the win.
"The first thing I was most pleased with was the way our bench played," Jones said. "After our first unit had the slow start, our bench came in and gave us a lift. Another thing was [that] our overall intensity was very good. I challenged our guys to be ready to go because we had beaten [Lehigh] by double digits before, so this was definitely a step in the right direction."
Senior guard Eric Fanning led BU on offense, with 27 points on 46.7 percent shooting. He also knocked down a season-high five 3-pointers.
The bench came up big as well. The duo of junior forward Nick Havener and freshman forward Max Mahoney combined for 11 points and 12 rebounds in 38 minutes and provided physicality on defense.
"[Havener and Mahoney] were great," Jones said. "They were freakin' great. They played so hard, and they were active. Nick had eight rebounds and Max had four. They really gave us a lift."
On the other end, senior Tim Kempton led the Mountain Hawks with 18 points on 58.3 percent. Kempton is one of four Mountain Hawks to average double-digit scoring this season, the others being senior Austin Price, guard Kahron Ross and guard Kyle Leufroy. However, none of the other three reached 10 points on Monday.
Jones credited his team's strong defense for limiting Lehigh's supporting cast.
"Our zone was very good," Jones said. "Our guys did a great job of matching up within the zone and talking on defense. We kept them off balance because we were active in the zone. The press worked too — it allowed us to change up the looks we gave to [Lehigh]."
Lehigh raced out to an early 8-0 lead, but BU turned up its defensive pressure and went on a run of its own for the rest of the half, taking a 34-25 lead into the break.
To go along with their full-court trap defense, which had nine steals in the half, the Terriers were relentless on offense. They grabbed six offensive rebounds and got to the free throw line 11 times compared to Lehigh's four.
BU came out in the second half with the same energy, pushing the lead to 15 points four minutes into the half, thanks to more full-court pressure.
The trend continued, with the gap eventually reaching 23 points on a 3-pointer from Fanning. Lehigh would not cut the deficit to under 15 points for the rest of the game, and BU left Pennsylvania with a crucial road victory.
After dropping three straight and squeaking by the United States Military Academy on Wednesday, it was important for the Terriers to secure a victory against a quality opponent.
"This win was very important," Jones said. "It was a nice step in the right direction. We're heading for the tail-end of this thing, so it's good to set a tone as we're gearing up for the playoffs."