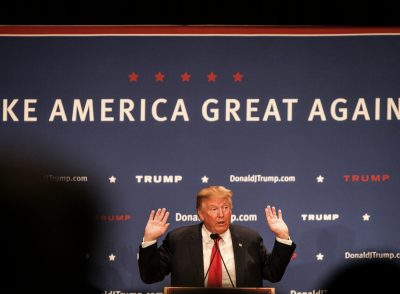 After President Donald Trump issued executive orders to strip federal grant money from sanctuary cities and to ban travelers from seven Muslim-majority countries from entering the United States, several New England public officials and organizations released statements, decrying the orders.
Regarding the executive order on sanctuary cities, Boston Mayor Martin Walsh voiced opposition and urged Americans to champion the country's diversity as a way of standing together in solidarity.
"Preventing people from entering this country based solely on faith runs counter to everything we stand for as Americans," Walsh said in a press release. "It is a reckless policy that is rooted in fear, not substance, and further divides us as a nation and a world."
Massachusetts Sen. Elizabeth Warren said Trump's order sent anti-immigrant messages and displayed a misunderstanding of the real dangers facing the nation.
"[Trump's] actions today will hurt working parents and children who have risked their lives to flee war, violence, and poverty," Warren said in a release. "They will waste taxpayer dollars on irresponsible and misguided pet political projects. They will divert local police department resources away from protecting our communities and building trust in the neighborhoods our officers serve."
Carol Rose, the executive director of the American Civil Liberties Union of Massachusetts, said in a statement the ACLU supports Walsh and other officials' decision to stand up to Trump administration's "unpatriotic, wrongheaded, and unconstitutional executive order" by declaring Boston a sanctuary city.
"President Trump's executive orders reflect a government without conscience," Rose said. "We stand with those who seek to unify the country behind protecting fundamental rights and liberties. And to the Trump administration officials who seek to do otherwise: we'll see you in court."
Helen Marrow, a sociology professor at Tufts University, elaborated upon the potential legal issues facing Trump's campaign promise to withhold funds from sanctuary cities.
"It is probably not possible for him to do it because whatever grants they're getting from the federal government, they were signed a long time ago," Marrow said. "In the Tenth Amendment of the U.S. Constitution, the Supreme Court interprets that the federal government cannot commandeer state and local governments by requiring them to force federal mandates."
Marrow highlighted common misconceptions regarding sanctuary spaces among the general public.
"They don't do extra kind of asking about legal status, and tying legal status to local benefits, reporting legal status," Marrow said. "This is a real misconception in the general public that just because they're sanctuary cities they don't somehow enforce immigration law, and that isn't true."
Although Tufts may wish to label itself a sanctuary campus, Marrow said, the decision is not necessarily a feasible one.
"Designating yourself a true sanctuary isn't legally viable as an educational institution, and that also it might draw the ire of a president in ways that actually kind of work against all the other things we're doing to try to support them," Marrow said.
Regarding Trump's executive order on travel bans, several Massachusetts officials said Gov. Charlie Baker said in a statement that the immigration ban could negatively impact Massachusetts citizens.
"Massachusetts is a global community. We all benefit from the shared experiences of our partners from around the world," he said. "Our education, health care, business and public sector institutions rely on these relationships to deliver on their missions every single day."
Rep. Joe Kennedy, who represents the 4th Congressional District of Massachusetts, said in a statement that Trump's acts represent a scared and intolerant administration, not a strong one.
"President Trump's executive orders today are the actions of a scared government, not a strong one. I urge my colleagues on both sides of the aisle to come together and undo his damage," Kennedy said.
Several Boston residents expressed their disapproval of Trump's executive orders.
Nicolette Poindexter, 32, of Fenway, said her experience as a substitute teacher for Boston Public Schools has led her to meeting numerous immigrant children, and expressed that it is disheartening to witness the effect anti-immigrant rhetoric and orders has on them.
"I meet a lot of children from Somalia, a lot of children from Sudan," Poindexter said. "I think it is traumatic for them. You come to another country and you want to reinvent yourself. You want to enjoy all the possibilities that they say America has but it is limiting to hear all of these things about your culture."
Dawn Lavallee, 28, of Dorchester, said the executive orders are too extreme and illogical.
"I understand his concern for safety but I think that there are a lot of people, most people, that are not going to be any concern to our safety that should be traveling from [the banned countries]," Lavallee said. "Also, there's already a wall on a good portion of the border and logistics-wise, it's a nightmare."
Richard Mendez, 44, of Brighton, said Trump's behavior is not representative of a leader who supports all different types of communities.
"I'm a Democrat so I'm all about favoritism to everybody and what Trump is doing is just so unfair and so unconstitutional," Mendez said. "He just lashes out and doesn't know what he says. In a nutshell, he's just from a different world."