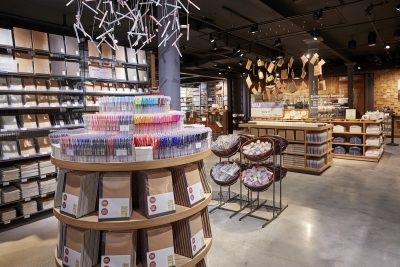 With the reverence of museum-goers, guests at MUJI Newbury Street's launch party explored the brand's second American flagship location, marveling at the pristine exhibition of yet-to-be-touched products.
The store's launch party, held Thursday night, was open to a select group of invitees. The opening, featuring appearances by Masaaki Kanai, chairman and representative of MUJI, as well as Asako Shimazaki, president of MUJI USA, offered light refreshments and exclusive store access.  
Officially opened Friday, MUJI Newbury Street is the brand's second largest American location and offers services unique to flagship stores, such as embroidery and custom scent mixing. The Boston flagship also features exclusive Boston-themed products and the North American debut of two of the brand's specialty textile collections, according to the press release.
Founded in 1980 in Japan with the name Mujirushi Ryohin, "no-brand quality goods" in English, MUJI is a Japanese lifestyle brand that offers a wide variety of products, notably including stationery, clothing and household essentials, according to its website. Despite eschewing the minimalist label often applied to the brand, MUJI's website describes its products as "empty vessels" that "yield the ultimate universality, embracing the feelings and thoughts of all people."
Currently, the company has over 400 store locations in Japan, as well as more locations in 25 countries.
"We've always thought we have a good fit with Boston," Kanai said in an interview with The Daily Free Press.
Boston's small city size, natural beauty and active academic community, Kanai said, are in line with the brand's ethos.
"MUJI is thrilled to open our second major North American flagship store in the heart of Boston's Newbury Street," Shimazaki said in a press release on MUJI's website. "We look forward to developing strong relationships in the city and gathering inspiration from the incredible institutions that will surround us."
From the indications of the launch party's attendees, the feeling is mutual.
"I really like MUJI products because they're just very cleverly designed and super simple but super clean looking," said Frankie Presta, 30, of Revere. "I like it a lot. It's quite big in comparison to some of the other MUJI's I've visited around the world."
Despite this is only MUJI's second flagship location in the United States, they already have a huge following.
"It's like a Uniqlo meets an IKEA," said Jessie Berlingo, 26, of Somerville. "We're always happy to have more representative businesses."
With regards to the store's numerous offerings, stationary is the most popular among customers.
"I'm all about the stationery," Berlingo said. "I've been to Japan a couple times and the thing I miss is being able to buy the stationery."
In designing MUJI Newbury Street's marketing campaign, Claire Tsai, a senior marketing manager of MUJI USA, used the popularity of the brand's stationery as well as the growing pop-up shop trend to her advantage.
"In this area of Boston we have a lot of students, so when customer visits us, if they decorate [a] notebook with our stamp and also take a picture," Tsai said, "and post [it] on their Instagram [with #MUJINewbury] they got the notebook for free."
The approach worked. Within one week of starting the promotion, Tsai said, more than 500 Instagram posts were made using the hashtag. Now, following the store's grand opening, the hashtag has more than 1,800 posts.
Currently, MUJI has locations in four states — California, New Jersey, New York and Massachusetts. On the company's plans to open future American locations, Chairman Kanai was decisive.
"Naturally, we do [plan to]," Kanai said. "We're not in a huge hurry, but we want to go gradually, bit by bit, and get larger."
This article has been updated.