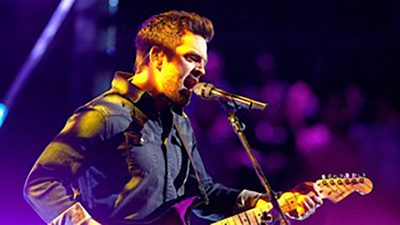 When Brendan Fletcher was in middle school, he persistently begged his brother to let him join his band, "Structured Chaos." After learning the guitar and receiving a bit of help from his mom, Fletcher finally became a member.  Even though his middle school days are past him, Fletcher still possesses a strong drive when it comes to pursuing his music.
He went through five stages of competition during season 11 of "The Voice," making it as a semi-finalist.
"When I was 18 years old, I stood in line in New Jersey to do "The Voice" audition, and it was like 100 degrees out, and I was in line for four and a half hours," Fletcher said in an interview with The Daily Free Press. "The line didn't move at all and I wasn't even sure if I wanted to do it, so I ended up leaving without even trying out."
But he had some unfinished business.
"Ever since that day, I felt like I owed it to myself to go back and try out," Fletcher said.  "I went to Philadelphia, I stood in line and did the same thing."
Taking the risk, as he knows now, paid off.
"I think it was just, when you want to do something so insane — you want to be a musician, you want to be a singer — you kind of have to take advantage of these crazy things," he said.
Walking out in front of judges Blake Shelton, Alicia Keys, Miley Cyrus and Adam Levine for the final audition, Fletcher said, was like a dream.
"It was all like playing with house money and the circus kind of began from there," he said.
Before he performed on "The Voice," Fletcher, who graduated from Boston University's College of Communication in 2012, played open mics at places like BU Central and the West Campus dining hall area.
"It was cool being in COM because I was surrounded by like-minded creative people, and I would find out about open mics from people," he said. "And then when I lived in Allston, me and a couple buddies had a band.  We would play shows on the weekends."
Although he was a film and television major, Fletcher said he still uses his COM knowledge in both his music career and life.
"Will Lautzenheiser was my favorite teacher," Fletcher said. "He was really inspirational in the sense that he taught us that all the ideas we would pitch and come up with were valid ideas because they were unique to us and they were stories that could only be told by us, which makes them important. He just kind of instilled that believing in your own creativity can take you far."
Fletcher said the film industry is similar to the music industry in that they are both difficult to get into. 
"COM really did prepare me for going after something that's maybe not the easiest thing to succeed at and not being afraid to try to make a career out of doing something creative and artistic," he said. 
After his time on "The Voice" came to an end, Fletcher said he "feels the burden to keep it going."
"'The Voice completely changed my perspective and it helped me completely realign myself," Fletcher said. "To keep the waves kind of going is really on me right now, which I'm excited about, and I'm completely embracing it."
Students on Boston University's campus also said they appreciate "The Voice" for its candid nature.
"I think 'The Voice' is great because it creates a more honest connection between the coaches and contestants that's fun to watch," said Anna Gregoire, a freshman in BU's College of Communications. She later said, "Now that 'American Idol' is over, it's one of the few big singing only competitions left so we might start seeing more of the contestants in the mainstream after the competition."
Unlike other singing shows, "The Voice" also has few twists.
"The different rounds make the show more interesting than the typical singing competition," Gregoire said. "After 'The Voice,' the contestants have this relationship with someone in the industry, which I think is really cool."
Currently, Fletcher is recording an EP that he said he hopes will be released by the end of March. Along with making new music, Fletcher is set to tour with some of his fellow "The Voice" contestants in the upcoming month, starting this Wednesday in New York.
Fletcher's pursuit to continue moving and to continue advancing his career is palpable in the advice he has for current Terriers who are where he once was.
"I just woke up every day with an achievable goal in mind for that day," Fletcher said. "No matter how unachievable or intangible the dream seems, if you wake up everyday with that goal in mind and bullet point out certain achievable goals for each day, then that dream definitely becomes more tangible and more reachable." 
This article has been updated.