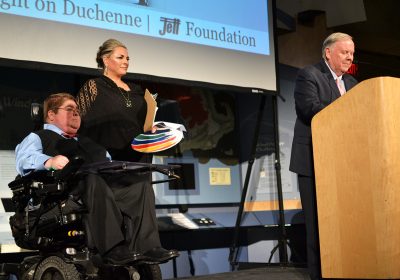 The Jett Foundation, a Kingston-based nonprofit organization dedicated to helping those with Duchenne muscular dystrophy, a genetic disorder that primarily affects males, held its first annual "Shine A Light on Duchenne" gala on Thursday.
This organization was founded 16 years ago by Christine McSherry and aims at funding research on DMD and aiding those who suffer from it.
Last year, the main goal of the foundation was to assist Exondys 51, a drug that relieves DMD symptoms, in getting approval from the Food and Drug Administration. After spending months campaigning in Washington D.C., the organization finally succeeded in getting it passed in September.
"We decided to have our first gala to celebrate the fact that there is hope, where there hasn't been any before, that there is support and that we've made a change," said Alissa Ford, events director at the Jett Foundation.
She proceeded to discuss how, while they had expected approximately 100 people to show up, they wound up with more than 300 attendees.
The gala was sponsored by a large number of organizations, including Orsini Healthcare, which allowed families who may not have been able to afford the event to attend.
The Boston-based photographer Bill Brett was honored at the gala, as he helped place McSherry in the spotlight a few years ago, furthering her cause.
Cindy Quitzau, a mother whose son has DMD, was also honored for her contribution in the field. She is the founder of the Gals for Cal organization, which raises funds and awareness for DMD.
Francisco Naya, a biology professor at Boston University, shed some light on the topic in an email to The Daily Free Press.
"Duchenne Muscular Dystrophy is one of several types of muscular dystrophies, it is not the only one. It mainly affects males because the gene is located on the X chromosome," Naya wrote.
He continued to elaborate on the importance of dystrophin being "an important structural protein required for muscle contraction." A lack of dystrophin results in severe skeletal muscle defects, Naya described, which characterizes DMD.
"Although skeletal muscle defects are the most obvious and debilitating (difficulty in walking, limb movement, and breathing), most DMD patients die of cardio-respiratory failure because the heart and the diaphragm are muscles and they stop functioning properly," he wrote.
Anthony Accorsi, a research fellow at BU and a specialist in the disease, further explained the effects of DMD.
"By the age of about 10 or 12, they are severely impaired," Accorsi said. "Between the ages of 12 to 15, they're in the wheelchair and, by then, need to have ventilator support while sleeping. And then, because it's a progressive disease, the case worsens. It's a lot of work and very expensive."
A video premiered at the gala introducing an initiative by the Jett Foundation, giving hope to the patients and their families.
"We're launching a new initiative in 2017 and it's called the Jett Giving Fund," Ford said. "Since the beginning, Christine was raising money for funding to get the drug passed. Now she sat down and started seeing all these posts on Facebook of families that couldn't afford wheelchairs for their son, they couldn't afford beds that would help them turn in the night."
With the aid of the Jett Giving Fund, DMD families will now "gain access to all these facilities that they need," such as power chairs and prosthetic arms, Ford said.
Ford said the gala raised more than $105,000.
"I think that right now the giving fund is our future," she said. "We want every boy with Duchenne to have a better quality of life."