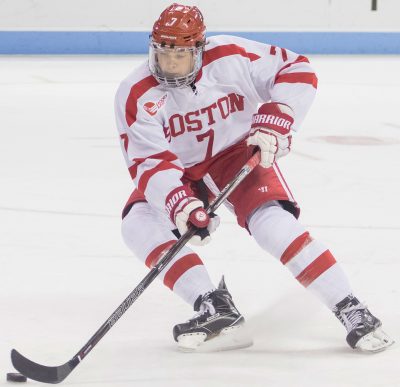 There's nothing sexy about playing defense.
The highlight-reel plays, save for a mid-ice hit, are typically reserved for the forwards. Instead of trying to dangle and deke, you often search for the safest pass. Most of your time is like that of a guard dog, trying to clear traffic in front of goal, block shots and throw your weight around in the corners.
Perhaps more than anyone, Jake Oettinger, the starting freshman goaltender on the No. 3 Boston University men's hockey team, knows how those elements are for the Terriers.
"Top to bottom our D corps is probably the best in the country, and it's definitely something that I really appreciate," the freshman said. "It's one of the biggest reasons we've had success this year."
That's not hot air from Oettinger either, as BU's band of brothers along the blueline is quite literally one of college hockey's best in 2016-17.
The unit, along with Oettinger, allows 2.08 goals per game, tied for the fourth fewest in the nation. BU's penalty kill, meanwhile, enjoys an 87.1 success rate, the NCAA's fourth best total. Lastly, it has pitched five shutouts through 26 games, more than the last three seasons combined.
"Overall as a group we're so comfortable with each other, and everybody pulls their weight in this D corps," said sophomore Charlie McAvoy. "There's a lot of great hockey players, and when it comes down to it, anyone can play with anyone, no matter what the D pairs are. We just have a real great group of guys, and Jake has been that rock in net."
As McAvoy hinted at, the talent is there in bounds, at least on paper.
On most nights, BU rolls out six NHL Draft picks in defense, including senior Doyle Somerby, juniors Brandon Hickey and John MacLeod, McAvoy, and freshmen Chad Krys and Dante Fabbro. Their natural ability is what stands out, but as Quinn often says, it's merely one part of the broader picture.
That's where a subtler storyline for the Terriers enters from stage left: partnerships along the blue line.
"They seem to really work well together," Quinn said. "They rely on each other, there's good communication, there's anticipation of what your partner is going to do because you play so well with them. Without question when you have some continuity with your partner, there's more familiarity with each other's game."
The partnerships have shifted at times, but Quinn seems to have his group. And with that comes a succession of sorts: progress, a deeper understanding, then execution.
---
The Conductors
Ask what Krys and McAvoy bring, and you're bound to hear one of two phrases: puck movement or skill.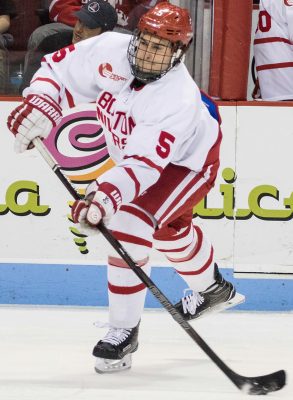 Those labels are pretty apt, too, as the former U.S. NTDP teammates love to join the attack, picking their moments to almost act as a fourth forward. So when Oettinger describes them, it sounds like the modern-day blueliners who litter the NHL.
"They're both really skilled, but can also shut it down," Oettinger said. "Both really good skaters, really good puck movers and both guys are difference makers. Obviously both are high draft picks, and they're that for a reason."
Expanding off that last point, Krys, an 18-year-old with Connecticut roots, was picked last summer in the second round by the Chicago Blackhawks. McAvoy, meanwhile, heard his name called 14th overall by the Boston Bruins the same summer.
Their similarities extend even further, as they grew up playing against each other, with McAvoy on the Long Island Gulls and Krys on the Westchester Express. They skated together en route to capturing a gold medal at 2015 IIHF Under-18 World Championship, then won bronze with Team USA at the 2016 World Junior Championships in Finland.
What is it, then, that make them more than their respective pedigrees and reputations?
"We have a pretty good understanding of each other and won some big hockey games together and played in a lot of big games," McAvoy said. " …We play our game and he knows when he goes that I'll be back, and then when I go that he'll be back. We take care of the D-zone pretty well."
As the 2016-17 season has unfolded, Krys and McAvoy have stayed true to their bread and butter. They've combined for 22 points, blocked 57 shots and seldom shy away from pinching in the offensive zone.
Their approach comes with risks, but don't expect them to switch it up anytime soon.
"I think every once in a while Younger and coach are probably like, 'you need to calm it down back there,'" Krys said. "It's the way we want to play, and there's going to be some odd-man rushes here and there, but the puck possession that we have and the offensive zone time we can create, that's important."
---
The Canadians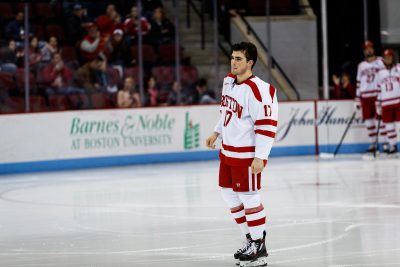 About 750 miles separate Fabbro and Hickey's hometowns –— New Westminster, British Columbia and Leduc, Alberta.
That's about an eight-hour commute by Fabbro's estimation, and he added there are definitely some shared connections in the hockey world. But here they are, right in the heart of Beantown and thriving on BU's second unit.
"It's just exciting to be here with this group of guys that has so much potential and has an opportunity to make something special," Fabbro said.
The duo, however, shares far more than their home country.
Hickey, a 20-year-old, was the Calgary Flames' third rounder in the 2014 Draft. Then there's Fabbro, an 18-year-old, who was the Nashville Predators' first rounder in the 2017 Draft.
They've also combined for 100 blocked shots and 21 points. They're, as Quinn put it, guys whose chemistry hardly ever draws "oohs" or "ahs" from the Agganis Arena crowd, but is crucial.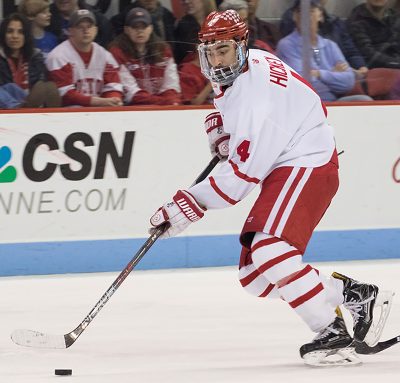 "We keep talking to each other on the ice and making sure to remind each other of what to do in certain situations," Fabbro said. "If one person is hemmed in or vice versa, the biggest thing we've always talked about is screaming at each other to let each other know where we are on the ice. It's making sure there's options."
While their no-nonsense style stands out, it's notable how complimentary Hickey and Fabbro are.
If the former fires off one of his trademark slap shots from the point, the latter slowly drifts back into the neutral zone, preparing for the occasional odd-man rush. Should Fabbro jet off to the corner, Hickey shifts in front of Oettinger, protecting the most dangerous spot on the ice.
Their synchronization is at another level, but Krys believes it's all in a day's work.
"Hicks is a really good 1-on-1 player," Krys said. "It must be really tough for other teams to play against him – I don't think I've seen him get beat 1-on-1 the entire year. Then Dante's very good with the puck, calms it down, makes good decisions."
The perfect yin to the other's yang.
---
The Muscle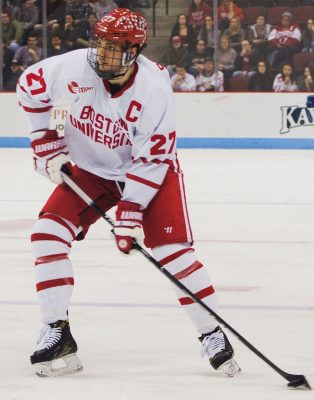 As the eldest member of the group – 22 years old, to be exact – Somerby recognizes how crucial chemistry is in defense.
But as the team's captain, he's shown a willingness to adapt, too. And he's done just that throughout 2016-17, slotting alongside whoever Quinn tosses his way.
But with MacLeod, he's struck a slightly more special chord.
"He's just really physical and really steady," Somerby said. "I know he's always going to be there if I need him, and he talks a lot out there. We have a lot of communication, and that's key, especially in a loud building when stuff gets chaotic down low and you're stuck out there. Having someone out there like him really helps."
What also helps, Somerby explained, is that he and MacLeod have shared far more than their three years together at BU. Back in the 2011-12 season, they laced 'em up for Kimball Union Academy, a prep school in New Hampshire.
There's also a geographic connection, as Somerby's hometown of Marblehead and MacLeod's Dracut are only 40 miles or so apart. Perhaps most of all, though, Quinn said they "give us size and strength and a little bit of grit on the blue line, which we don't have a lot of."
Quinn's assertion has proof in numbers, too, as they've blocked a combined 75 shots and logged considerable minutes on the penalty kill. Their sheer size stands out as well, as Somerby registers at 6-foot-5, 225 pounds. MacLeod, meanwhile, boasts an imposing frame himself, clocking in at 6-foot-2, 200 pounds.
However, tTheir understanding, however, extends far beyond any metric, MacLeod said.
"It goes back to us playing for that year together in high school and just getting familiar with tendencies," MacLeod said. "Now when a certain play goes on I'll know where he's going to be and vice versa. It helps a lot because we're roommates, good friends off the ice and we can always talk about what worked, what didn't work."
But they're more than bruisers, as they've chipped in six assists and 42 shots on goal. Oettinger, for one, has taken notice.
"They're two really big guys, but two guys that can also move the puck," Oettinger said. "They're probably our most shut-down D pair, and Doyle's our leader. He brings it every night and it starts with him on out."
That is, there's far more to Somerby and MacLeod than a cursory glance.
---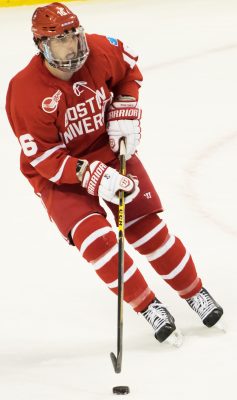 Through implication or direct statements, BU has made no secret about how it wants the 2016-17 campaign to end up.
There are dreams of silverware – — the Beanpot Tournament, Hockey East title and, if the stars align, and a Frozen Four berth –— and they're slowly becoming more realistic. It's defense is a dominant reason why.
After all, when Quinn has to hand junior Brien Diffley and sophomore Shane Switzer a healthy scratch on most nights, it shows how deep the D-corps is.
"[Brien and Shane] are good players," Quinn said. "We sit here all the time talking about guys that haven't played in a while. We're not giving up many goals, we're getting out of our end and there's a lot to like about the way we're playing. It's hard to change it."
In other words, there's continuity brewing along the blue line, and McAvoy knows how crucial that'll be as high-profile games near.
"Staying in the moment is something that I believe in," McAvoy said. "It's keeping our focus just on playing good hockey and not trying to do more than we should."
MacLeod echoed much of the same, suggesting BU just needs to keep going full steam ahead.
"We just have to keep playing the way that we've been playing," MacLeod said. "It gets hard down the stretch, and we just want to make sure we're doing everything we can. Like coach says, each of us brings a talent to the table, so it's making sure we use that talent to its fullest potential."
So far, so good.