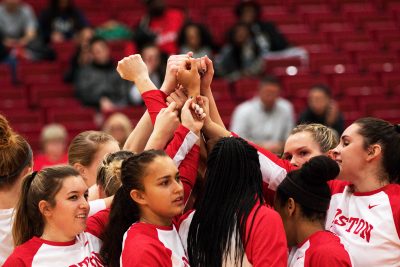 Women's basketball talent in the state of Maine is not to be overlooked. Boston University freshman Nia Irving is continuing a recent trend of Mainers finding success at the NCAA Division I level in women's college basketball.
"As long as Maine High School girls' basketball stays relevant and the players keep working hard, the fans keep paying attention to it and coaches are drawn to it. I think they have no choice [but] to get better," Irving said.
Irving competed with the Maine Maniacs during her AAU career. She said she is grateful for her offseason playing opportunities as well as her high school seasons. She says that staying focused on basketball year-round has helped make her a better player.
"I think a lot of that is credit to the high school coaches who have been working all year around to help players evolve, but also to AAU programs," Irving said. "I know my AAU program the Maniacs, the Firecrackers, the Maine Wave all try to work year-round with their players to really help their skills and help keep them playing in the offseason. The exposure you get with the AAU teams is really important,"
BU head coach Katy Steding certainly appreciates Irving as well.
"Nia brings a lot of youthful skill," Steding said. "She never gives up, she never quits playing. She's pretty relaxed and just when you think she's done playing she finishes the shot or gets the loose ball or gets the steal that you don't expect."
Irving's 2016 senior campaign finished with a loss to longtime AAU and high school rival — Shannon Todd and York High School — in the 2016 Maine Class A state final 58-57. Todd is now a starting guard for the women's basketball team at Northeastern University, the team BU opened up their season against with a 78-59 loss. Irving was out due to injury.
"I'm just really disappointed that I didn't get to play for the beginning of the season, let alone that game," Irving said. "I mean obviously there was a little bit of a grudge match going into it because we didn't get the outcome that we wanted to in that state game. Not only would it have been great to play against her, but I just regret having to miss out at the beginning of the season."
The Maine connections do not stop there, however, as BU (7-13, 5-4 Patriot League) has played Mainers Ashley Storey, Sarah Clement and Kristen Anderson, all of the University of New Hampshire, and Dartmouth College's Olivia Smith in regular season matchups in the 2016-2017 campaign.
"The last couple of years have happened to be pretty deep," said Steding regarding the latest graduating classes of Maine women's basketball players.
Pine tree state natives such as Sierra Tapley and Maddy McVicar (University of Maine), Jess Willerson (Cornell University), Allie Clement (Marist College), Mary Butler (Brown University) and Jillian Libby (New Jersey Institute of Technology) have also made their impacts on the NCAA Division I hardwood this season.
Current Maine high school players, such as Villanova recruit Emily Esposito as well as youngsters Anna DeWolfe and Faith Blethen will likely find themselves playing at Case Gym in the near future at college basketball's top level.
"Maine girls' basketball is definitely evolving. There are a lot of Division I players trying to come out of Maine. But not only Division I, Maine is starting to produce a lot of college level players," Irving said.
Maine basketball legend Cindy Blodgett is likely the greatest basketball player to come from the state, and is an assistant coach with the Terriers.
"Maine basketball has always been terrific," Blodgett said. "Most people outside of the state have no idea how rich in talent and how important the sport is to the state. Each year Maine produces multiple players that impact colleges from both in and out of the state."
Blodgett applauded Nia's performance on the team, especially as Nia is transitioning from high school to college.
"Nia is doing a terrific job learning and growing each day as a player," Blodgett said. "Making the jump from high school to college is a difficult jump and she's able to grow daily due to how coachable she is."
But Irving never felt she needed to compare herself with her current coach.
"We play two totally different positions, so it's not like you can really compare us, and I mean she's not really someone you can compare anyone to," said Irving.
Irving has made four consecutive starts for the Terriers after missing the team's first 11 games, establishing herself in her third game of the season coming off the bench.
In a 69-64 victory over Lehigh University on Jan. 2, Irving contributed 26 points, 10 rebounds and three steals in 28 minutes of play. She also hit 12-13 clutch free throws in a contest where BU trailed by 15 late in the fourth quarter.
She went on to be named Patriot League Rookie of the Week the following day.
"I don't really go out thinking I've got to go out and score this amount of points or I've got to get this amount of rebounds, it's more like what can I do to help the team?" Irving said. "That game I just tried to be as aggressive as possible. We needed a scoring factor."
Looking toward the remainder of the season, Irving said she is confident.
"We just want to keep playing hard," she said. "We've been kind of on an upward track so we want to stick to that, but we are really looking forward to the second half of Patriot League play. Our ultimate goal is to make it to the Patriot League championship, but it's one game at a time."
CORRECTION: Nia Irving was misquoted in a previous version of this article. We regret making the error.