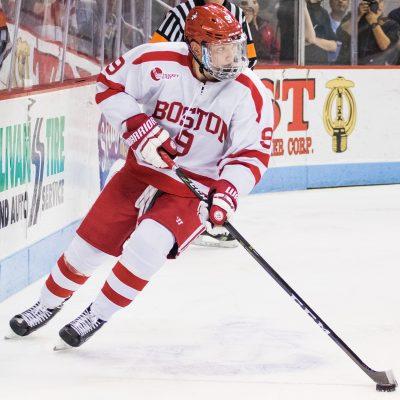 The Beanpot Tournament's opening round is just four days away, but the No. 3 Boston University men's hockey team has business to take care of first.
On Friday night at Agganis Arena, the Terriers will play host to the University of Massachusetts Amherst. In many ways, the clash will mark the coming together of two sides heading in opposite directions.
BU sits third in the PairWise Rankings, in second place in Hockey East and is 9-2 in its last 11 contests. UMass, meanwhile, is a lowly 56th in the PairWise Rankings, dead last in Hockey East and in the midst of an eight-game losing streak.
"I'm hoping our guys don't put any stock into any of that, because it means nothing [Friday] night," said BU (17-7-2, 10-4-2 Hockey East) head coach David Quinn.
Even though Quinn's side seems the odds-on favorite, the Minutemen (5-20-2, 2-12-1 Hockey East) did give BU a close game at Frozen Fenway on Jan. 8. The Terriers emerged with a 5-3 win, and senior forward Tommy Kelley said lessons were learned from that frigid day beneath the Green Monster.
"They really played hard, they're a physical team," Kelley said. "They might not have a lot of skill, but they certainly make up for that in effort. If you look at their game recently with Northeastern [University], they were all over them, down low hunting pucks and stuff like that."
When breaking down the matchups, though, BU has the advantage.
In goal, the Terriers will trot out freshman Jake Oettinger, who is among the nation's top-five netminders in goals against average (1.82), save percentage (.935) and shutouts (5). UMass, on the other hand, will likely start freshman Ryan Wischow, the owner of a .901 save percentage and 3.05 goals against average.
With forwards, BU boasts five players with 20 points or more in sophomores Bobo Carpenter, Jordan Greenway and Jakob Forsbacka Karlsson and freshmen Patrick Harper and Clayton Keller. Meanwhile, no forward on the Minutemen has reached 20 points, with senior Steven Iacobellis' 16 points being the closest.
The trend continues onto special teams, as BU's 87.1 success rate on the penalty kill is fourth best in the NCAA. Contrastingly, UMass's power play only scores 9.93 percent of its chances, the second worst total in the country.
Despite all that, Greenway said the Terriers have to stick to the basics.
"Honestly it's 'get as many shots to the net as possible,'" Greenway said. "They have some pretty big D; I don't think their foot speed is as quick as other teams, so it's working down low and finding a way to get around them by using our speed. Puck movement will really help us out a lot."
Intricacies aside, Kelley stressed that Friday night's matchup is all about carrying momentum forward from last Saturday's game against No. 10 University of Massachusetts Lowell. BU was tied 1-1 after two periods, but pulled away in the third to secure a 4-2 win at home.
"It got back to more blue-chip, hard-nosed hockey where maybe it's not the coolest-looking play, but it's the most effective play," Kelley said. "Just getting pucks to the net, being hard on guys in the corners. That's been a vocal point this week in practice."
After Thursday's practice, Quinn also had several personnel updates.
He said freshman forward Kieffer Bellows will be back in the lineup after his "best week of practice of the year." Meanwhile, freshman forward Gabriel Chabot, junior defenseman Brandon Hickey and Keller have all had the flu, but should be ready to feature.
Lastly, as noted earlier in the week, junior forward Nikolas Olsson is out long-term due to a broken bone in his right leg. He had surgery on Wednesday morning, and Quinn said there's no recovery timeline available yet.
No matter who's in the lineup, though, the task against UMass remains the same. BU has high hopes for how its 2016-17 season will unfold, and another two conference points are at stake.
"We're down to six games left in the league, and we don't have much room for error," Quinn said. "If we're going to make a run at this thing, we're going to have to take care of business game in and game out."