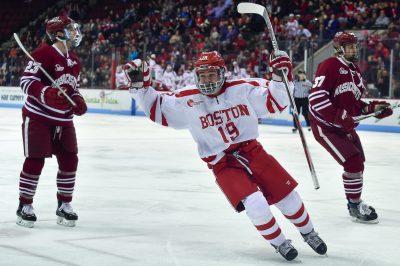 When it comes to men's hockey contests between Boston University and the University of Massachusetts Amherst, history is on the former's side.
On Friday night at Agganis Arena, that trend continued, with the No. 3 Terriers earning a 3-1 win over the Minutemen. The victory pushed BU's series record against UMass to 61-11-6, including eight straight wins.
"Just a good two points," said BU (18-7-2, 11-4-2 Hockey East) head coach David Quinn. "You know, there's no easy games in this league. I know people look at records and make assumptions, but this is a hard league."
Once again, it was freshman forward Clayton Keller who stole the show, pushing his point streak to 14 games.
The 18-year-old center got the scoring underway 3:37 in, beating goaltender Ryan Wischow through traffic. When the 14:40 mark of the first frame rolled around, Keller turned provider, finding freshman defenseman Dante Fabbro for his fourth marker of the year.
Aside from Keller, BU was dominant in the first, outshooting UMass, 22-8.
"We were just getting pucks deep and playing our game," Keller said. "I think when we play like that no team can play with us."
When the second period rolled around, though, the Minutemen flipped the script.
Ray Pigozzi, a first-line winger, deflected home a shot from defenseman Shane Bear while on the power play. Jake Oettinger, BU's freshman netminder, was caught off guard, but finished the matchup with 28 saves.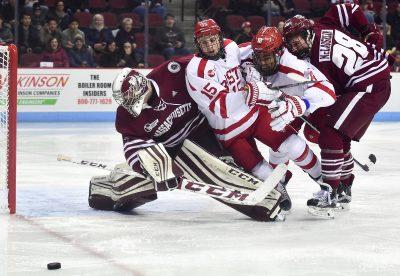 While Pigozzi's tally thickened the plot, the Terriers shot themselves in the foot somewhat, taking five penalties throughout the frame. For Quinn, who wants his team to stay under four penalties per game, frustration seeped in.
"All of a sudden I think our mindset changed after the first period, getting up 2-0 and the way the period kind of evolved," Quinn said. "Our mindset changed, so we're not going to be able to do that and have success. We know that and hopefully we can learn from that.
Needing a response, the Terriers found just that through sophomore forward Bobo Carpenter with 9:36 left.
Camped out in front of Wischow, Keller found Carpenter, who deposited into the open net. It was the North Reading native's 10th tally of the year, and his marker sealed the contest.
Even though BU captured the full two points, its power play struggled. UMass (5-21-2, 2-13-1 Hockey East) blanked the Terriers on all seven of their extra-man opportunities, despite suffering 19 shots on goal across that span.
"It's part of the game sometimes where you don't get puck luck or you don't get the bounces you need," Fabbro said. "The good thing about the group we have is we stick with things. When things go bad we don't stray away from what's been working for us.
"I know we hit a few posts and missed a couple open nets," Fabbro added, "but if we keep doing the right things I think we'll get the bounces we need."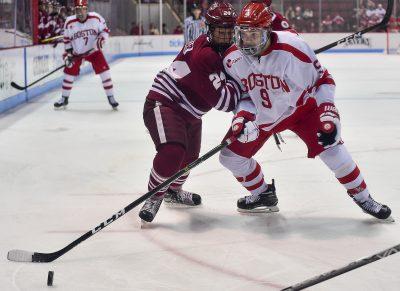 By the night's end, BU outshot UMass, 45-29, and the scoreline could have been far worse if not for Wischow.
He made 42 saves, using any part of his body to keep the Terriers at bay. Quinn and Greg Carvel, UMass's head coach, were full of praise for the freshman in their respective postgame press conferences.
Looking down the road, BU will take Saturday off before practicing on Sunday ahead of the Beanpot Tournament. The scarlet and white will take on No. 8 Boston College on Monday night, a team they've already beaten twice during the 2016-17 season.
"I think we're just going to have to go into that game like any other game and play our game," Keller said. "When we do that, nobody can hang with us. Our best hockey is yet to come.