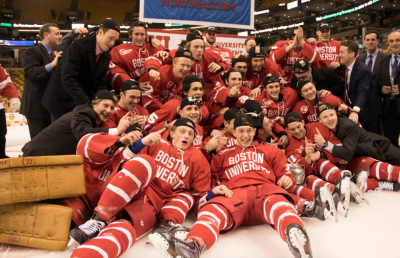 The No. 3 Boston University men's hockey team made no secret of what's at stake when the 65th Beanpot Tournament gets underway Monday night: Bragging rights.
After all, the Terriers (18-7-2, 11-4-2 Hockey East) have won the competition 30 times and hold a 27-16 series edge against No. 8 Boston College, this year's semifinal foe. At one point, fans even jokingly dubbed the Beanpot the "BU Invitational," in lieu of how successful Jack Parker's teams were at TD Garden.
This go around, the scarlet and white will look to channel that history, namely the nine players who won the 2015 title over Northeastern University, 4-3 in overtime.
"When we won it my freshman year, it was the best thing ever," said junior defenseman Brandon Hickey. "No one could take it away from you. You were the best team in that tournament, and it's a pretty special thing to win."
That mid-February game, though postponed two weeks due to winter storms, was one for the history books.
BU stormed out to an early lead through forward Mike Moran, the Huskies conjured up a third-period comeback and then defenseman Matt Grzelcyk scored the game-winner with a cannon past goaltender Clay Witt.
Now, a small nucleus from that title-winning squad remains on BU's 2016-17 team, an element head coach David Quinn said shows remarkable turnover. The contingent includes senior forward Nick Roberto, senior defenseman Doyle Somerby, junior forwards Nikolas Olsson and Chase Phelps and junior defenseman John MacLeod, Brien Diffley and Hickey.
Memories and experience, as a result, are in full supply this go around.
"I used to always go to the Beanpot, so finally holding it up and taking a picture with my grandfather – he used to take me – was pretty cool," Roberto, a Wakefield native, said. "The Beanpot's always special, especially for the Massachusetts kids and New England ones."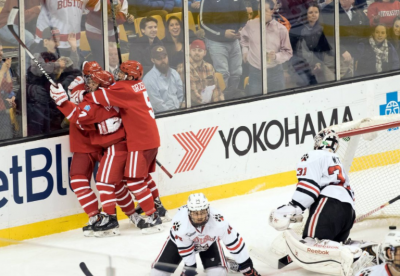 Hickey, meanwhile, added: "I come from Western Canada and had no clue what the Beanpot was, no idea. All of a sudden I remember texting my parents after the game being like, 'Yeah this Beanpot thing is kind of a big deal.' I remember everyone going insane the entire game, and when either team would score it would be deafening – it would be so loud."
But as Monday's opener against the Eagles (18-9-2, 13-3-1 Hockey East) nears, Quinn said the 2015 title shouldn't play too large of a role.
After all, BU boasts 10 freshman and seven sophomores, the latter of which lost in the 2016 title game, 1-0, to BC, also in overtime.
"When you win it it's such a great feeling, so I'm sure those thoughts will be dancing through their heads at some point between now and tomorrow night," Quinn said. "They obviously know that they have to be geared to what's at stake."
As Quinn added, that 2015 title came nearly two years ago and the BU of 2016-17 is vastly different.
That doesn't mean, however, that past accomplishments are lost on the Terriers' experienced players. For Hickey, that surfaces in guiding the younger players through the craziness of a game at the Garden.
But, as Hickey added, BU's young core has played in its fair share of high-profile games, with seven skating for a gold medal at the 2017 World Junior Championships in early January.
"I was talking to [Dante Fabbro] the other day and he was saying how loud the Bell Centre was when they were playing against USA," Hickey said. "I don't know if Beanpot is going to get that loud – Canada loves their World Juniors – but I know it's going to be pretty close to something like that. They definitely have some experience to draw on for sure."
Roberto went a step further, saying BU won the 2015 title because of camaraderie and togetherness.
"It was the friendships," Roberto said. "I still talk to all those seniors, even Jack [Eichel] and A.J. Greer. Then the winning ways. Winning the Beanpot was so cool, sharing it with all those guys."
As Roberto added with a smile, he hopes BU can find that 2015 mojo again.