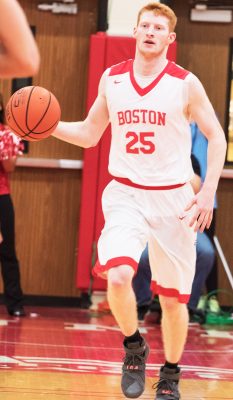 In a game in which the starters struggled to score, the Boston University men's basketball team's bench stepped up and boosted the team to a 75-58 win over Lafayette College on Sunday afternoon at Case Gym.
Of the Terriers' (13-11, 8-4 Patriot League) 75 points, 36 were scored by the bench. They relied on their bench to match the Leopards' (6-17, 2-10 Patriot League) hot offense in the first half, which allowed the Terriers to regroup themselves at halftime and eventually pull away for a big win.
Junior guards Eric Johnson and Will Goff each played their second most minutes of the season, as Johnson played 28 minutes and Goff 25 minutes. The two guards combined for 24 points, eight rebounds and two steals.
Freshman forward Max Mahoney was the lone big man off the bench who played more than five minutes. He had 12 points and five rebounds in 13 minutes.
BU head coach Joe Jones mentioned Goff and Mahoney among the top performers in the game.
"I thought [sophomore guard] Kyle Foreman really impacted the game," Jones said. "Him, Will Goff, [junior guard] Cedric Hankerson and obviously Max Mahoney — we had a group of dudes that really impacted the game and helped propel us to a win today."
BU was already shorthanded due to internal suspensions and junior forward Nick Havener's second-consecutive DNP. The starters' struggles and foul trouble only made it more difficult.
In the first half, the point differential between the two teams never reached more than six points. Overall, the starting lineup contributed only 19 of the Terriers' 40 first-half points.
Due to the starters' slow start, BU was in danger of falling behind an on-target Lafayette side, which shot 6-13 from deep and 16-30 overall in the half on the way to taking a 41-40 lead.
However, BU relied on its bench to come in and give it a jolt. Senior guard Eric Fanning, who leads BU in scoring, had two first-half points on 1-4 shooting. Due to foul trouble, Hankerson and Foreman both played eight minutes in the half.
Stepping up in place of the starting backcourt's foul trouble were Johnson (nine points) and Goff (six points). Mahoney also came in and scored six points on 3-3 shooting in just five minutes.
Jones was happy with the bench's offensive involvement.
"Sometimes I feel like we don't allow those guys to get in the flow of the game," Jones said. "Our bench is good when the ball is moving. Tonight they were able to do that — the ball just has to move so that they can be more involved offensively."
The trend continued in the second half, with Johnson starting over Foreman. Senior forward Justin Alston and Hankerson committed early fouls in the half, so Mahoney and Goff subbed in for an early run yet again.
The Terriers built a solid lead in the half and the bench was ready when called upon to help preserve the lead with some big plays down the stretch.
With 6:39 remaining, Mahoney cut baseline and finished a pass from Foreman with a dunk over a Lafayette defender to give BU a 10-point lead it would not look back from.
All season, BU has been shorthanded, but the bench has been ready when called upon, yet again they outplayed the opposing bench.
"Our bench is a big factor," Jones said. "They're in a lot of our wins. When you look at the wins, our bench was productive. When our bench can outplay the other team's bench, it's a big win for us."