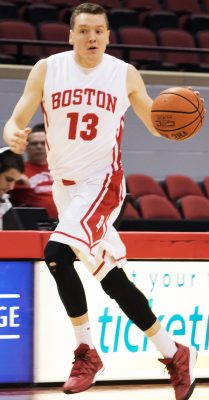 The Boston University men's basketball team defeated Lafayette College in a close contest that saw the Terriers (13-11, 8-4 Patriot League) pull away late in the second half.
BU trailed at half, only to outscore the Leopards (6-17, 2-10) 35-17 in the second half to win by a score of 75-58.
The biggest difference in the second half was the Terriers defensive attack. BU forced 19 turnovers and scored 29 points off of turnovers en route to the victory.
The Terriers got production from players who usually don't light up the box score.
BU head coach Joe Jones was pleased with the effort he got from his bench players, noting their continued improvement and commitment to the program.
"We had a balanced attack tonight," Jones said. "Sometimes it doesn't even matter who the four guys are … overall I love their effort."
Junior guard Eric Johnson was one of three Terriers to lead the team in scoring, totaling 12 points, two rebounds and two assists off the bench.
In addition to Johnson, freshman forward Max Mahoney came off the bench to score 12 points and grab five rebounds.
Junior forward Will Goff recorded his third highest point total of the season with 12, as well as six rebounds and one assist.
Jones noted how tough it is for guys coming off of the bench to truly get into an offensive rhythm.
"Sometimes we don't allow those guys to get into the flow of a game," Jones said. "Our bench is good when the ball is moving because that means that guys like Goff, Johnson and Mahoney are going to be able to contribute and today they were able to do that."
Jones continued on to credit the bench's play for several of their wins.
"Our bench has been a big factor in a lot of our wins," Jones said. "If you look at our wins our bench was productive. When our bench can outplay the other team's bench that is a major win for us."
Compared to its last loss against Navy, in which BU shot just over 38 percent from the field, BU proved much more efficient, shooting nearly 46 percent from the field.
One player who did not live up to expectations in the first half was senior guard Eric Fanning. The Trenton, New Jersey native came into the game averaging 15 points and six rebounds per game. In the second half though, Fanning found his rhythm and finished the game with 11 points, nine rebounds.
Jones noted many things that he stressed to his players during halftime, leading to the improved play in the second half.
"Our intensity, our attention to detail … we were able to set our press up," Jones said. "Overall what we needed to do to win the game, we really stepped up."
For Lafayette, its biggest issue came on the offensive glass, as it was outrebounded 42-34, including surrendering 10 offensive rebounds. For the Terriers, Fanning and junior guard Cedric Hankerson had the most success under the boards, recording 9 and 6 rebounds respectively.
"I'm really proud of the effort," Jones said. "Cedric Hankerson was awesome."
The win and rebounding effort is that much more impressive considering junior forward Nick Havener did not record a single minute for the second straight game.
"When Nick starts doing what he is supposed to be doing and following his responsibilities of what it means to be a BU basketball player, he'll play," Jones said. "Until that happens he's not going to play and that's all I'm going to say about that."