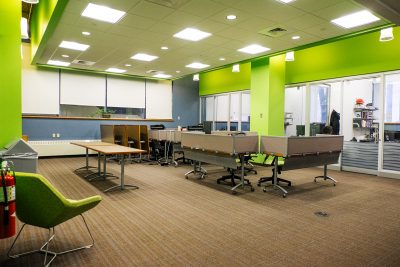 Boston University President Robert Brown announced on Jan. 23 that BU joined Red Hat, a technology storage company, in a five-year long, $5-million research collaboration that will merge Red Hat's open source innovation with BU's cloud computing research.
Red Hat will be working with researchers at BU, including undergraduate, graduate students, Ph.D candidates, postdocs and visiting scientists, Vice President and Associate Provost for Research Gloria Waters wrote. 
Waters wrote the collaboration will allow Red Hat and BU to use each other to their respective advantages.
"This will provide students with insight into the questions/issues that industry is working on and ensure that their work is relevant to the commercial data centers that power the cloud," Waters wrote in an email to The Daily Free Press. "It will also provide Red Hat the opportunity to hire BU students as engineers and technology leaders."
Director at the Rafik B. Hariri Institute for Computing and Computational Science and Engineering Azer Bestavros said this partnership will add opportunities beyond the classroom the university provides to students.
"Many of the research projects are outgrowth of projects that were initiated in courses offered at BU," Bestavros said.
This collaboration is not the first between BU and Red Hat. 
BU's Hariri Institute and Red Hat have been working for three years on the Massachusetts Open Cloud, a collaborative project between several Massachusetts colleges to "develop an open, production-quality cloud computing system," according to a statement on the Hariri Institute's website. The new collaboration is an outgrowth of the MOC, Bestavros said.
Director of BU's Cloud Computing Initiative Orran Krieger said BU and Red Hat wanted to combine the strengths of the two parties.
"We have an incredible opportunity to merge the strengths of Red Hat as a leader in open source with BU's strength in cloud computing research," Krieger said.
Krieger said partnering with Red Hat has been a success so far and is looking forward to its continuation.
"It has been an awesome collaboration," Krieger said. "Both groups felt we want to strengthen and deepen the collaboration, and this is a significant commitment from both sides."
The aim of the collaboration is two-fold, said Jan Holzer, a senior consulting engineer at Red Hat.
"One [aim] is clearly to feed some meaningful research [at BU] in a number of areas around cloud computing, workload, micro services [and] satellite computing," Holzer said. "[These are] a lot of the same technology areas BU has invested research in."
Holzer said not only engineering and computer science students will be able to reap the benefits and Red Hat looks forward to tapping into BU's "bright talent."
"It sort of it sounds like engineering is sort of our target focus," Holzer said.  "We're interested in any area of research possibly … if a student has an interesting topic for us which can be related back to technology … we're not turning down any idea."
Several students said they are looking forward to the collaboration's implementation.
Jesse Mendoza, a sophomore in the College of Arts and Sciences, said he hopes to participate in the program even though he is a chemistry major.
"I believe that the big data platforms provided by Red Hat could help immensely with data crunching in my research lab," Mendoza said.
Katherine Ward, a sophomore in the College of Engineering, said this project is important in helping students better understand computing.
"Understanding computer programs and systems is critical for all engineers," Ward said. "Hopefully this collaboration can better inform all students about the use of computer systems in industry and research."
Ward, a biomedical engineering major, said she is excited to see money allocated toward her department.
"I am excited for the computer engineering and science students to be able to form a relationship with industry, conduct research and receive funding," she said. "They deserve the support from industry that the biomedical engineering department has earned."
Katherine Vella, a freshman in ENG, said the partnership will help BU stay in the current with research.
"This is going to help us stay relevant and modern, keeping up with the competition in a world where technology is changing so fast and growing so fast," Vella said.