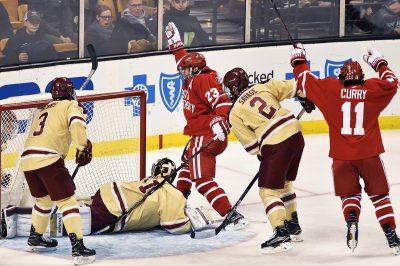 Monday night at TD Garden was always going to be about seizing the moment. The occasion – a semifinal game in the 65th Beanpot Tournament between bitter rivals – was practically begging for it.
The last punch – the fatal blow – would be for the taking between the No. 3 Boston University men's hockey team and No. 7 Boston College. So, who would book a ticket to the title bout in one week's time against No. 4 Harvard University?
By three period's end, it was the Terriers (19-7-2), courtesy of three ever-so-timely goals, who inched closest, earning a 3-1 win over the Eagles (18-10-2).
"I'm very excited to be playing in the final," BU head coach David Quinn said. "It's been awhile since we beat Boston College in the Beanpot."
Even with head coach Jerry York's side flying out of the gate, it was the scarlet and white who landed the first punch.
Sophomore forward Jakob Forsbacka Karlsson – who previously went 21 days without scoring – pounced on a rebound 4:29 in, giving BU a 1-0 lead. The tone was set.
"It was definitely a good time to get the goal today," Forsbacka Karlsson said. "It's a huge shift and momentum swinger, and I think any time you can get an early goal it's a great time."
When the second period rolled around, BC needed a response, having been outshot, 12-2, in the first frame. Chad Krys, a freshman defenseman, had other ideas while on the power play.
Handling a feed from sophomore winger Bobo Carpenter, Krys lasered a wrister into the top corner 3:23 in, making it 2-0.
"Chad's had a great second half [of the year]," Quinn said. "He actually had a good first half, but he's been defending much better and I think he's been much more assertive around the puck."
The Eagles, however, had an answer to Krys's statement within reach.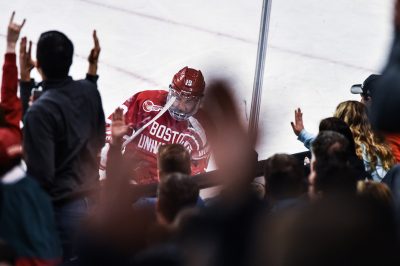 It came via senior Austin Cangelosi – the squad's sparkplug all night – at the 6:59 mark, as he brushed home a backdoor pass past freshman netminder Jake Oettinger. The tides, it appeared, were turning in favor of the men from Chestnut Hill.
But, as was the case all night, BU retorted in swift fashion.
This time it came from the delicate hands of Clayton Keller, bursting towards Joseph Woll's goal on a shorthanded chance. For a nation-leading fourth time – and to extend his point streak to 15 games – he found net, making it a 3-1 game with 11:06 gone in the frame.
"He's such a threat out there," Quinn said. "He's got such great instincts and when you're on a power play and you have him coming at you, I think you get a little nervous."
With a timely performance in hand, the Terriers also rewrote the history books in myriad ways.
The win, as coupled with two Hockey East victories, means BU has now swept BC in the regular season for the first time since 1994-95. Furthermore, the Terriers snapped their six-game losing streak to York and co. in the Beanpot, stretching back nearly a decade.
Now the question before the Terriers is such: Can they capture their 31st Beanpot title?
It won't be easy by any means, as head coach Ted Donato's Crimson (19-11-4) stand in the way, having knocked off Northeastern University, 4-3, in the opener. Even further, BU awaits a stern Hockey East test on Friday against No. 9 University of Massachusetts Lowell, the same side it swept aside two Saturdays ago.
For the time being, BU will take its historic win over BC in stride, then it's right back to business. There's a trophy on the line, after all.
"It's funny, we don't change a lot no matter who we play," Quinn said. "We like to approach it as, 'This is how we play, this is what we want to be good at.' Obviously you make some tweaks to the teams we play, but 95 percent of our preparation is the same no matter who we play.
"You gotta win 50-50 puck battles, you gotta establish your forecheck, you gotta manage the puck well," Quinn added. "If you do that, I don't care who you're playing. You're going to have some success."