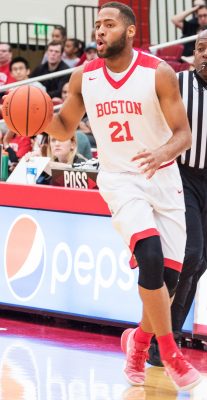 The Boston University men's basketball team will travel to American University Wednesday night, looking for another season sweep of a conference rival.
The Terriers (13-11, 8-4 Patriot League) won three of their last four games, with two victories coming against opponents that BU beat for the second time.
Against American (5-18, 2-10 Patriot League), BU has had frequent success, including the two teams' last encounter on Jan. 11, a 76-66 win. The Terriers have also swept the Eagles in the previous two years, but the Eagles bounced BU from the Patriot League tournament last season.
In the previous meeting, the Terriers won behind the 3-point line, converting on 12 of 18 attempts while holding American to 26.1 percent from beyond the arc.
While the 3-pointer remains a major weapon for BU head coach Joe Jones' offense, he understands his team won't be able to convert at such a high clip this time around.
"That's impossible," Jones said of replicating his team's shooting performance. "But we have made a more concerted effort to take better shots. We are trying to play more inside out and share the ball, really just making sure we're getting a good shot and not worrying about who's taking it."
BU relied on the hot shooting of junior guard Cedric Hankerson and freshman forward Tyler Scanlon, who hit a combined nine of BU's 12 3-pointers.
Hankerson has had an inconsistent season. However, he has recently committed himself to impacting the game without the ball.
In past seasons, Hankerson has been a primary scorer, but with that role taken by senior guard Eric Fanning, Hankerson has readjusted his skill set to making steals, which he has shown with 10 in the last three games alone.
Also, after a streak of seven games with either one or zero total rebounds, Hankerson has 16 in his last four games, exhibiting unselfish behavior that will help his team going forward.
"We want to keep him aggressive offensively, that's who he is," Jones said. "But he can impact the game in different ways that he's shown in the last few games with steals and rebounds and playing great defense. Ced's a great all-around player. I think he's focused on the right things right now."
In regard to Fanning, he has evolved from just a scoring threat to a bonafide double-double option, as he leads the team with 6.3 rebounds per game, ranking ninth in the Patriot League. While Fanning only has three double-doubles for the year, he has six games in which he finished with either eight or nine rebounds, lending legitimacy to his rebounding prowess.
"He's really worked hard on wanting to be a better all-around player," Jones said. "He's a very good all-around player when he focuses on being a good all-around player, and that's what we need from him."
Meanwhile, American has three potent scorers averaging in double-digits, who gave the Terriers some trouble last time out.
Freshman Mark Gasperini is the Eagles' best threat down low, averaging over 12 points per contest. His classmate, point guard Sa'eed Nelson, is American's leading scorer, averaging 13.8 points per game. However, Nelson gets most of his points by attacking the rim. Neither Nelson nor many of his teammates are threats from behind the arc, where the Eagles have converted at 29.7 percent on the season.
This will play into BU's hands, as the team's 3-point defense has been lights out lately. In their last game against Lafayette College, the Terriers stifled the Leopards (6-17, 2-10 Patriot League), as they went just 6-for-26 from three. Continuing this strong defense will be necessary for BU to keep down a struggling American offense.
"They're going to take threes, but that's not their strength," said Jones. "Their strength lies in getting to the paint with Nelson, as one of the better point guards in the league already as a freshman, and Gasperini scoring at the rim. I think that's how they beat you and then they get compliments from the guys on the perimeter. But first, you have to shut down the paint."
Jordan Green contributed to the reporting of this article.