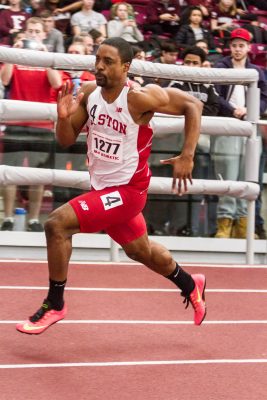 This past weekend, the Boston University track and field team hosted the Bruce Lehane Scarlet and White Invitational. The competition was given a new name this year to honor 35-year cross country coach and track assistant director, Bruce Lehane.
Two Terrier records were broken. Senior David Oluwadara leapt 16.07 meters for men's triple jump, which is the seventh-highest mark in the nation. The 4,000-meter relay team, consisting of seniors Matti Groll and Ethan Homan, junior Cameron Nurse and sophomore Alexander Seal, broke the previous school record. The team finished second overall, completing the event in 9:41.23.
Senior Cameron Williams was the only Terrier to win his event, placing first in the 200-meter dash in 20.85 seconds.
On the women's side, senior Toria Levy and junior Gabrielle DiRenzo finished second in their respective events. Levy ran a personal-best 1:11.70 in the 500-meter dash, and DiRenzo finished the 5,000-meter long-distance event in 17:44.83.
Swimming and Diving gears up for Patriot League Championships
The men's swimming and diving team completed its regular season this past weekend at the University of Connecticut's Husky Invitational.
Senior Daniel Andronov best represented the Terriers, winning the 50-meter freestyle in 20.87 seconds, just a half second faster than the second place finisher.
Other BU swimmers who finished in the top four of their respective events were sophomore Matt Traub, third in the 200-meter backstroke, and freshman Tommy Hagerty, fourth in the 200-meter freestyle. Junior Chris Downing, 100-meter fly, and sophomore Justin Wang, 100-meter breaststroke, both came in fifth in their respective races.
After a successful weekend at UConn, the Terriers will visit Bucknell University next week from Feb. 15 to Feb. 18 for the Patriot League Championships.
Women's tennis opens conference schedule with win over Navy
The Boston University women's tennis team picked up where it ended last season, defeating the United States Naval Academy 4-3 in a rematch of last year's Patriot League Final on Friday afternoon in Annapolis, Maryland.
The Terriers fell behind 1-0 early. However, they rallied to tie the score 1-1, as junior Iryna Kostirko defeated All-Patriot League first-teamer Amanda Keller.
With the score tied at 1-1, BU won three of the remaining five available singles points. Sophomores Remi Ramos and Sabrina Faybyshev and freshman Clara Falxa won their respective matches in straight sets.
However, the Terriers lost their match on Friday, 5-2 to the University of Maryland.
BU's next match is Feb. 24 against Boston College.