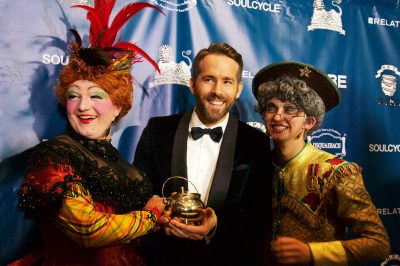 After receiving the 2017 Man of the Year Award from Harvard University's Hasty Pudding Theatricals on Friday night, Ryan Reynolds revealed why "Deadpool" was so popular among millennial audiences — authenticity and unconventionality.
The Daily Free Press asked Reynolds why the movies are resonating so well with the up-and-coming generation, which he described as an "unbreakable and a hard demographic to pull into a movie these days."
"That's the audience that has enough entertainment at home. They need a real reason to go out," Reynolds said. "We were really fortunate with 'Deadpool.'"
"Deadpool" released on Feb. 12, 2016, featured Reynolds as the witty, yet crude, anti-hero from the Marvel comics. The movie made $135 million in the United States just in its first weekend.
"Deadpool" has been racking up awards, including those from MTV, People's Choice and Teen Choice. Most notably, Reynolds was nominated for a 2017 Golden Globe Award for Best Performance by an Actor in a Motion Picture in a Musical or Comedy for his performance as Deadpool.
Reynolds has continued his award-winning streak with this year's Man of the Year Award from Hasty Pudding Theatricals. Given to an actor and actress annually for its now 169th year, each thespian is paraded, made fun of and made to perform embarrassing tasks to win their trophy.
"Our Man of the Year Award is given each year to someone who has demonstrated their talent and abilities in the entertainment industry," wrote Natalie Kim, producer of Hasty Pudding Theatricals, in a message. "We were humbled by Ryan's acceptance of our pudding pot and impressed by his willingness to have fun!"
Reynolds showed this when he was asked by others to make a joke of New England Patriots quarterback Tom Brady.
"Oh god, that's a terrible thing to do, you know we're in Boston, right?" Reynolds said.
The Hasty Pudding celebration drew an enthusiastic and dedicated crowd, which joined in with the cast in jeering at the actor.
Kari Sciera, 49, of Wellesley, has attended the Hasty Pudding Man of the Year Award celebration for the past five years.
"The biggest difference this year was that the Harvard Krokodiloes (Harvard's oldest a capella group) did not perform which I always really LOVE! " Sciera wrote in a message. "Other than that the show did not disappoint."
After the roast of Reynolds, the tone changed as he spoke with the press and online viewers.
He discussed his personal life, including an endearing anecdote of the loving relationship between his daughters, saying his older daughter's "infatuation" for their new four-month-old "crushed him."
Of course, "Deadpool" was a main topic of discussion with the upcoming "Deadpool 2" set to hit theaters in March 2018. Reynolds continued reflecting on the success of the original "Deadpool," especially with younger audiences.
"We were able to get that audience out to see the film and make it an event for them," Reynolds said.
At first, he said, he was unsure of the specific reason why it "got that audience engaged," but eventually whittled it down to two specific points.
"It was incredibly authentic to it's source material, so I think that it's authentic in it's marketing and the execution of the movie," Reynolds said.
He stressed that ultimately the bizarreness of the movie is what attracted audiences.
"I also think it was unusual," Reynolds said. "It was completely unusual and a different sort of spin on a genre that is been around quite a while, and has certainly in a tone that has been very serious."
The comedic tone of "Deadpool" also played to Reynold's personality, he said.
"It's one of the greatest tools of social commentary … in the best of times, it's amazing. In the worst of times, it's even better."
Catering to a new crowd through an old genre makes the movies more personal and legitimate to millennials as the franchise breaks from the norm. Old-fashioned superhero movies still cater to a certain audience, however "Deadpool" was distinctively different from the prescribed tokens of the genre, critics say.
Reynolds also added that though most comedies follow a certain pattern, "Deadpool" went down a different path.
"To have something that usurps some of those expectations is unusual."