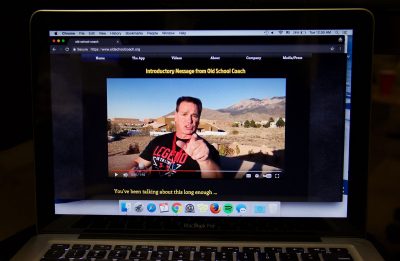 About three years ago, Lori and Cliff Lewis hired a personal trainer with over 40 years of experience. The trainer would soon move into their house, making health both a passion and a business opportunity for the couple.
The Lewis', along with trainer Steve Holden, created "Old School Coach," a fitness app that combines comedy and encouragement to help users reach their goals. Instead of an app that teaches you how to do exercises, this application aims to positively influence people's mindsets about exercise.
"We're not telling you how to do a squat, we're telling you to get off the couch and move," Lori Lewis said. "We're just saying get off the couch, stop eating potato chips and go walk around the block and I think that's where the average person is."
They plan to submit their product to the App Store by Friday, and hope it will be ready for purchase in the store by March 1. Upon downloading, the app requests access to the Health app on your iPhone. "Old School Coach" then uses the information collected on the Health iPhone app to evaluate your performance based on your previous day, then Coach Holden sends his encouragement through messages.
"The truth is iPhone collects [health] information whether you want to or not," Lori Lewis said. "We're just asking to allow us to have access so we can judge your performance based on that and Coach gives his encouragement in his own funny way."
Holden explained that he began instructing people in 1977, mainly helping people with athletic and mental performance.
"As time went on, I realized that their mental limitations were eliminating their physical progress," Holden said. "I realized how important it was to frame your mindset and that's what separates someone who's successful from unsuccessful."
Holden said he thought of the app after observing other people working out in the gym. He noticed traditional apps or fitness gadgets that would vibrate or buzz when a goal is achieved and wanted to take it one step further, he said.
"Our whole concept is having verbal interventions so rather than a buzzer or looking down at your wrist and seeing a number, we are the only ones that have incorporated verbal feedback of a real person and the voice that comes from a humorous point of view," Holden said.
Regarding tips of the day, Holden said, the app has generic motivations every day. As the person gets used to the app, it becomes more personalized.
The app's website shows a series of Holden videos, where he motivates viewers to exercise efficiently, creatively and optimistically.
The process of building the app was a more complicated than the Lewis' originally thought.
"Every time you make a change and update it, you have to redo a ton of things and fix bugs," Lori Lewis said. "It changes the code and it's a bit of a tedious process."
However, she emphasizes the process of building the app was an "in house kind of labor of love," and "it has been a long process but very enjoyable overall."
"It is just organic how it happened, and at the heart of it, we really get to help people," Lori Lewis said.
The app was intended to target people aged 50 and older, Lori Lewis said, hence the name "Old School Coach." However, they have been receiving positive feedback from people ranging from 18 to 90 years old, she said.
"Nowadays there seems to be an app for everything, and fitness is no exception," said Erin Condon, a freshman in Boston University's College of Arts and Sciences.
As a runner on BU's club track team, Condon said she liked to use the Map My Run app. The app allows her to track her distance and pace, she said, which is very motivating.
"A lot of athletes — and non-athletes, too — have trouble motivating themselves," Condon said. "I think an app like Old School Coach would be helpful for the days when I just feel lazy. I'm a teen, so I spend a lot of time on my phone. An app like Old School Coach would hold me accountable."
After the initial release, the Old School Coach team had innovative ideas in store for steps forward. For now, however, they just want to inspire through humor.
"As people, we have resistance to making change in our lives," Lori Lewis said. "And humor just seems to help people with that — it helped me, personally."