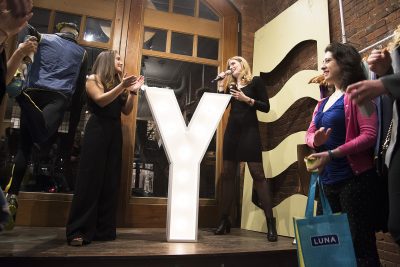 At The Y Society, it's not what you do, it's "Y" you do it.
Co-founded by Abbey Titcomb and Sarah Gaines, The Y Society is "building a community of female twenty-somethings by growing confidence, slaying gender roles, inspiring ideas, and kicking convention's ass," according to the organization's website.
On Thursday, more than 100 women gathered at Newbury Street's Janji Pop Up Store to celebrate The Y Society's official launch.
As the respective founders of Knightly and Fit University, Titcomb and Gaines found they faced "so many of the same problems associated with not only being young … but also being women and all the obstacles associated with that," Titcomb said.
Knightly is a safety tool that college students can use to alert campus security if they are in danger. Fit University, on the other hand, looks after college students in another way — motivating them to stay healthy with weekly workouts and motivation. And now, The Y Society looks to fight issues many women face.
"We really wanted to create a community of young women to get together and inspire each other and then, in turn, inspire themselves," Titcomb said.
Tired of the traditional networking question, "What do you do?," Titcomb and Gaines sought to reframe The Y Society's discourse with a new question: "What's your Y?"
Titcomb and Gaines said they hoped the inquiry, aimed at prompting attendees to share the passions behind their respective professional endeavors, would inspire conversations that led to connections that were not only professional but also personal.
"I think that's really important," Titcomb said. "Changing the stigma of networking into something that's … making meaningful relationships. Because they're more substantial and more fruitful in the end."
From the bustle of The Y Society's launch party, the question seemed to generate quite a bit of conversation.
"The event is doing really well," said Lexi Spikerman, a sophomore at Northeastern University. "It's pretty packed. Everyone seems be enjoying it, bonding over drinks and cookies."
For a couple attendees, the value came in The Y Society's distinctiveness.
"[It's] an amazing event, so well organized," said Jaylee Oberg, 28, of Jamaica Plain. "The activities are incredible and I really appreciate diversity here. I've been to a lot of Boston networking events … and [you] don't see this."
For many, the inclusivity of the group was new. Spikerman, for example, is a computer engineering major, and said she and her friend tried to start a Facebook group for the female electrical and computer engineering students at Northeastern. They only knew about five women they could include.
"Women tend to get underrepresented in a lot of fields, so I feel like The Y Society is about bringing them together," Spikerman said.
Even though there are a lot of young professionals and startups in Boston, Gaines said, there's an impression there aren't many females.
"I know whenever I go to any startup thing, if I'm not the single female in the room, there's maybe one other person," she said.
During a toast given at the launch, Titcomb and Gaines announced that The Y Society's future programming would include monthly brunches featuring professionally successful women, a daily newsletter and possibly more mixer events as well.
Speaking to the future success of the organization and its members, Titcomb emphasized the importance of creating a genuinely engaged user base.
"It's not like, you know, you put this in your Eventbrite and you're like, 'Ugh I guess I gotta go to this [event] because it's going to help me professionally," Titcomb said. "It's more of an event that you [want] to go to every week … I think [that is] … the biggest thing to forming that community."
Though The Y Society is young, Titcomb and Gaines said they have big hopes for its future.
"We want to have groups throughout every single city," Titcomb said. "We want you to show your Y card to someone in L.A. and then you automatically have that connection."