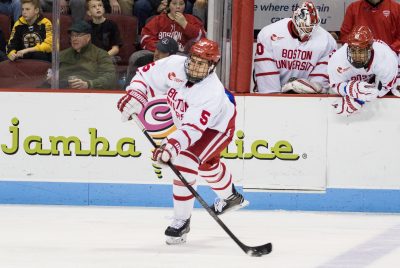 David Quinn, head coach of the No. 3 Boston University men's hockey team, made it very clear: There's no room for slip-ups anymore in league play.
The squad's goal, after all, is to capture the Hockey East regular-season title, and it's three points out of first place, trailing only No. 7 Boston College.
A major roadblock stands in the way, though, and it's called No. 9 University of Massachusetts Lowell. On Friday night, Lowell (17-9-3, 9-7-1 Hockey East) will host BU (19-7-2, 11-4-2 Hockey East) at a sold-out Tsongas Center, and the occasion is not lost on Quinn.
"We've dug ourselves a little bit of a hole, and we've got to get out of it," Quinn said. "This is a huge game, a huge game along the way. We have to make sure we take care of business."
Doing just that, however, will be no easy task. The River Hawks have outscored their last two opponents, 14-6, and boast several of Hockey East's elite players.
To name a few, there's forwards Joe Gambardella (37 points), C.J. Smith (32 points) and John Edwardh (24 points) and defenseman Dylan Zink (27 points). Lowell's goalie, Tyler Wall, has enjoyed a strong freshman season, too, posting a 2.22 goals against average and .914 save percentage.
Lowell's power play stands out the most, though, as its 36-for-132 mark is third in the nation. Add that all up and Quinn was "very impressed with their talent."
"They're literally like an American Hockey League team," Quinn said. "They're well coached, they have older players – they're good players, they're not just older players. I think sometimes that gets lost when you talk about Lowell it's, 'Oh, they're older.' Well, they're good. They're not getting 22-year-olds for the sake of getting 22-year-olds. These guys are good players."
As strong as the River Hawks are, BU did one-up them when they visited Agganis Arena on Jan. 28, earning a 4-2 win.
The Terriers pulled away via a three-goal third period, and freshman goaltender Jake Oettinger, who will get the starting nod Friday, said they'll look to harness that effort.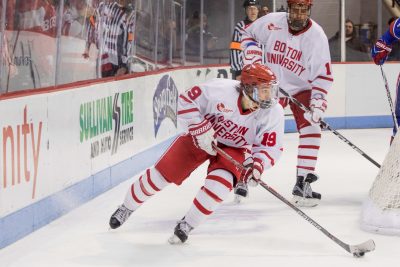 "We played really well in the third period, so we're just going to try and take what we did then and do it for 60 minutes," Oettinger said. "They're such an experienced, older team that capitalizes when they get the chance."
While BU holds a healthy respect for Lowell, it's enjoying a strong run of form.
After being swept by Merrimack College in late January, the Terriers have rebounded, winning three straight. Along the way, freshman forward Clayton Keller pushed his point streak to 15 games and Oettinger remains a top-five goalie in the nation.
However, come Friday night, BU will have a couple changes in store. Quinn said freshman forward Patrick Curry will slide down to the third line and senior forward Nick Roberto will take his spot on the top line.
The power play will also look different, but Quinn said he doesn't want to give away "all [his] secrets." That change is the byproduct of BU going 3-for-30 on the man advantage in its last six games.
As focused as the Terriers are, there will be one small distraction at play: Monday's Beanpot Tournament championship game against No. 4 Harvard University. BU got to that point by beating Boston College (18-10-2, 13-3-1 Hockey East), 3-1, in the semifinal round.
And while the Beanpot trophy looms large, Oettinger stressed the he and his teammates are taking it one game at a time.
"We have a chance to win a championship on Monday, but we also have a chance to move towards another championship Friday night," Oettinger said. "It's trying to focus on one game at a time, because the biggest game ahead of us is Lowell. Just focus on that and … play a full 60. It's going to be a really good test for us."