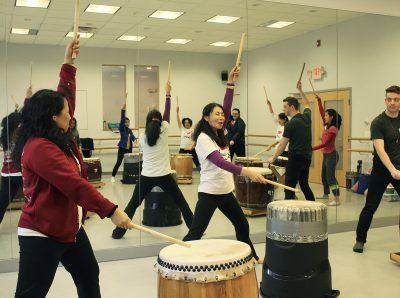 Social advocacy and taiko drumming aren't a traditional combination.
This is something Karen Young, the founding director of The Genki Spark, had known for a long time. But seven years ago, she combined both passions. The result was the creation of the first and only multi-generational, pan-Asian women's taiko and advocacy group in the United States.
"One of our main goals is to use the art form and our stories to address issues about racism and be able to address issues of homophobia and anti-immigrant sentiments," Young said. "We generally do it in a pretty cheery way — taiko's fun and really energetic."
The Genki Spark held its first membership open house of the season Sunday at The Brookline Ballet School, inviting the community to learn more about the organization and even hit the taiko drums a few times. Young and the other members emphasized that the group is built on the foundation of a "genki" attitude, a Japanese word meaning "happy, healthy, energetic, and FULL of life," according to their website.
Taiko is an ancient art, developed in Japan more than 2,000 years ago for communication and religious purposes. In the United States, modern taiko developed fairly recently as a way for Japanese Americans to keep cultural ties alive.
Roy Hirabayashi, Young's uncle and one of the original founders of San Jose Taiko in 1973, was one of her relatives who inspired Young's passion for Asian-American activism, she said.
"They started taiko groups not only because it was a great art form and it was fun, but also because it really meant something about being Japanese American and Asian-American," Young said. "That to me, that lineage and their stories, is really more important to me as a taiko player, and I didn't want to see those stories get lost."
But some things haven't changed. Taiko drums are still made with dried cowhide and thick wooden barrels, paired with two drumsticks called "bachi." And its beats still reverberate through a crowd, a sound originally produced to mimic a heartbeat.
But The Genki Spark, a Jamaica Plain-based organization, pushes modern taiko even further. The group works to promote equality for all individuals, regardless of age, sexuality, gender or ethnicity. Members range from 19 to 62 years old and span ethnicities including Japanese, Chinese, Filipino, Cambodian, Malaysian and Indian, Young said.
"We're immigrants, we're adoptees, we're mixed-race, we're third generation, we're Yonsei, we're international students," Young said. "And the world tends to want to lump us into one group, and so much of it is understanding intersectionality as identities."
Because of this, Young said she has shaped the organization's goals specifically to combat certain stereotypes Asian women face, such as societal pressures to be quiet, passive or compliant.
And this starts with taiko, an activity filled with physicality. It's not about looking cute, Young said. It's about expressing emotions when words aren't quite enough and, for The Genki Spark, sharing cultural traditions in the United States.
At the Sunday meeting, Young played a student-made documentary about the mission of the organization. With shots of bonding activities, personal narratives and some teary-eyed interviews with the members, the video showed off the deeper meaning the group held for the majority of the players.
It's unusual for most taiko groups, Young said, to make performances more than just cultural entertainment.
Instead, The Genki Spark has an hour-long program to teach audiences about the history of taiko, encourage crowd participation and include small group dialogues. And their programs don't just use taiko pieces. There's also spoken word, acting, clapping and "bon odori,"or Japanese Buddhist festival dancing.
"It's more meaningful to us," Young said. "You can play for 15 minutes at a multicultural night, but that's not nearly as meaningful to us as spending an hour working with a youth group or refugee group and talking about what it's like to try and keep your culture in today's society."
With this in mind, The Genki Spark recently performed at the Boston Women's March for America in January.
The group "didn't want to be divisive," Young said. "We wanted to come together as women who are concerned about the world, and that meant not only looking at issues of gender, but also political issues."
The Genki Spark also performed at the Social Emergency Response Center in Dorchester on Saturday, which, in addition to taiko, welcomed yoga, dance, writing and meditating to unite the community through art and political workshops.
Fuminori Nakatsubo, 51, of Hiroshima, Japan, attended the SERC out of curiosity.
"Japanese culture has a lot of traditional, cultural things," Nakatsubo said. "But in America, we can share 'genki' together."
The Genki Spark experience has not only addressed social issues. It also gives members a chance to explore their identities.
"What is an 'Asian' identity?" said Meera Venkatraman, another member of The Genki Spark. "What does it mean to be a woman? What does it mean to be queer or a mother of a queer child? There are lots of ways in which we explore identity, we explore community, we challenge ourselves and others."
The experience also has helped promote significant personal growth for some members, said Kumiko Yamamoto, a member of The Genki Spark, who moved from Japan to the United States in 1995 with her three children to leave an abusive husband.
Men always have the power, she said. In Japan, it was expected that she didn't show emotions and kept to herself. So when she joined The Genki Spark, at first it was challenging for her to stand in front of a crowd and perform. But her time with the group "changed everything," she said.
"I started to play taiko and it's really powerful, and it feels like it's okay to be loud and powerful and strong as a woman," Yamamoto said. "And I'm an older woman, but I really don't like to say 'I can't.' So I try."
Yet most members have experienced similar instances when they've felt they were put in a box, limited by a stereotype. Young summed up The Genki Spark's values in a single phrase, one that encapsulates their ethnicities, sexualities, activities, discussions and performances.
"Our diversity is our strength."