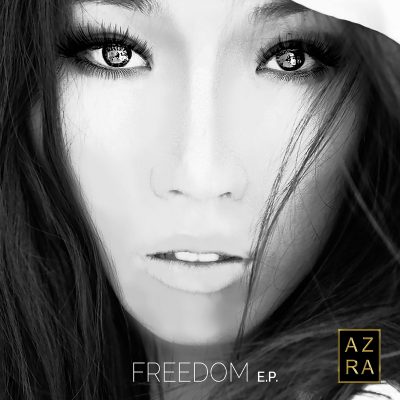 Azra is a woman of many interests, but music has been her constant companion and teacher since she was four years old, she said. When she moved from South Korea to the United States at age 9, she learned English by singing and listening to American music.
After graduating from Boston University and starting her own consulting company, CLÚ INC., Azra found that her four-year-old dream never went away — music has never left her side.
"I only knew half of the alphabet when I came to America," Azra said.
When she started fifth grade, she looked to music to find friends by joining the drama club and forming a girl group.
"That helped me express myself, communicate and also kind of learn more about the culture and the language," she said.
Listening to classic '90s pop artists such as Britney Spears and the Backstreet Boys, while also holding her girl group's rehearsals in her parent's garage, Azra immersed herself in American culture through a musical lens.
When it came time to apply to college, she wanted to find a school with a notable hospitality administration program, which she said is "not related to music at all."
She graduated from Boston University's School of Hospitality Administration in 2010 with a degree in hospitality administration.
"I've always kind of been an entrepreneur at heart," Azra said. "I think interning at so many places during the summers really got me exposed to so many different types of businesses."
But, Azra did not confine her college experiences by her major. She performed at the George Sherman Union for student organizations and was a dancer in Fusion, BU's hip-hop dance troupe, she said.
"During college, you know, even though I was going to SHA, I was always trying to take different classes," she said. "So I took [some] public speaking classes in [the College of Communication]."
Dipping her toes into the waters of corporate America, she interned on Wall Street, but also caught a glimpse of the entertainment industry by taking modeling opportunities and trying out a girl group.
"[The girl group] didn't work out at the time because [of a] management conflict, but at that time I was so excited because I was like, 'Wow, I finally get to go after my passion and try to do it professionally while going to school,'" Azra said.
In the middle of this auspicious period, a health diagnosis unexpectedly hindered Azra's professional drive.
"One day I woke up and I just couldn't see anything out of my right eye," Azra said. "That was when I was diagnosed with glaucoma. It was a very rare case."
Azra said she was ushered into a "dark place" as a result of this diagnosis and its year and a half recovery period.
"I had to put all my passions aside," she said. "The eye condition basically limited me from doing all the physical activities I loved to do from dancing to singing — everything."
Temporarily holding off on immersing herself in the arts, Azra said her eye condition was what led her to explore business and pursue freelance consulting in her senior year.
"But, they say once you have that flame inside of you [and] your passionate towards something, it's always going to be there, it's always going to poke you every single time," Azra said. "Music and singing is my ultimate — it's my passion since I was four."
From moving to America and learning English, to facing the setback of her eye condition, Azra has been catapulted on several unanticipated paths. But, with every adjustment, music has always stuck with her.
While she was recovering from her eye condition, Azra found that her passion finally revealed itself when a professional photographer approached her for an international fashion modeling competition.
"I went out of my comfort zone and I was just myself," she said. "Then I ended up winning, and that kind of helped me with getting a boost of confidence. So, that kind of put me back into the industry."
Through CLÚ Records, Azra will be dropping her debut EP, "Freedom," which is set to release on March 3.
"I wanted to do it to kind of speak out and finally let that inner voice — Azra inside of me — out," she said. "All these years of me trying to come out and trying to sing and own myself as an artist — I haven't been able to do that fully because of all the life events. [Now] I'm going to speak up, and hopefully my music can inspire and connect with other people."