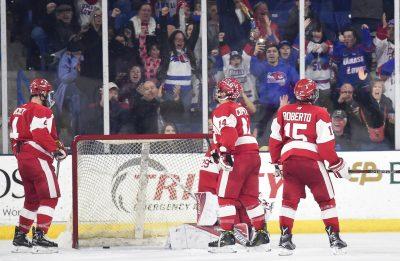 The Tsongas Center was a house of horrors for the Boston University men's hockey team during the 2015-16 season. At the hands of University of Massachusetts Lowell, it crashed out of the Hockey East playoffs and lost its regular-season game in the Mill City.
With another visit in store on Friday night, the now-third ranked Terriers' plight remained, as a 3-2 loss soured their trip north.
The defeat particularly stung, as BU's momentum is now zapped ahead of the Beanpot Tournament final on Monday night against No. 4 Harvard University. Furthermore, No. 7 Boston College lost on Friday to Merrimack College, placing BU in prime position to make up ground atop the Hockey East standings. It, however, could not capitalize on either opportunity.
"They're a good, tough match up for us," BU head coach David Quinn said. "They have one teenager in the lineup, we have about 20, so let's start there. We have every opportunity to recruit older players, too, so I'm giving [Lowell head coach] Norm [Bazin] a compliment … When you're an 18-year-old going up against a 24-year-old, you're going to lose a lot of puck battles."
Perhaps in a sign of what was to come, the River Hawks (18-9-3, 10-7-1 Hockey East) got the scoring underway just 1:35 into the contest. Senior Joe Gambardella beat freshman goaltender Jake Oettinger glove side on a 2-on-1 rush, all with Lowell's first shot of the game.
The Terriers (19-8-2, 11-5-2 Hockey East) answered right back, though, with freshman forward Patrick Harper making it a 1-1 game 3:22 in. He captured a Lowell turnover in the slot, then beat goaltender Tyler Wall with BU's first shot of the night.
Come the second period, the Terriers couldn't capitalize on a 5-on-3 power play, but did when Lowell had its own 5-on-3 chance.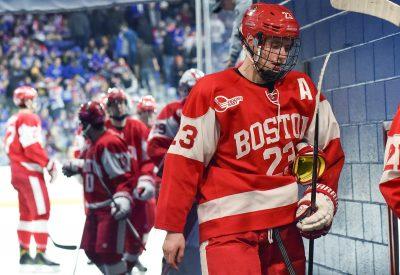 Sophomore forward Bobo Carpenter caused a turnover at BU's blue line, burst in on a breakaway and beat Wall glove side to make it 2-1 just 2:31 into the stanza. The River Hawks returned the favor with 8:55 remaining, as forward Ryan Lohin found himself alone in front of Oettinger and picked out the top corner.
Despite being knotted at 2-2, Lowell held a 19-8 shot advantage after two frames.
"I think we played pretty well, we just have to get more pucks to the net," Carpenter said. "Our puck movement has to get better. We have to work off each other and pass the puck and make those simple plays to get chances."
It was anyone's game come the third period, and ultimately Lowell showed the most urgency.
Freshman Kenny Hausinger scored the eventual game-winner 8:53 into the frame while on the power play, benefitting from a blocked shot. Special teams were a constant theme all night, as BU went 0-for-5 on the man advantage and took six penalties, including four in the second period.
"It was a wild game," Bazin said. "A lot of penalties both ways, and it certainly was a game of special teams."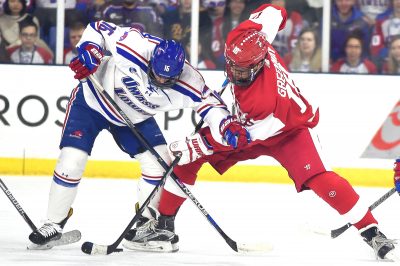 With the loss, BU splits the regular-season series with Lowell. The two sides met back on Jan. 28, and the Terriers edged out a 4-2 win at Agganis Arena. Bazin and Hausinger said they learned from that contest ahead of the reverse fixture.
"I thought we didn't get enough bodies to the net in that game, number one," Bazin said. "And we didn't have enough puck possession time. We tried to do a better job at both, and tonight it was a game of ebbs and flows."
BU now heads into the Beanpot final against Harvard (17-5-2) with a 3-3 record in its last six games. Complicating matters even further, the Crimson knocked off No. 6 Union College, 6-2, on Friday and own a five-game winning streak.
That turn of events was not lost on Carpenter, who said BU needs to regroup – quickly.
"Any game you win or lose, you have to get that jump," Carpenter said. "Especially now we don't want to lose back-to-back, so we'll be ready even more now."