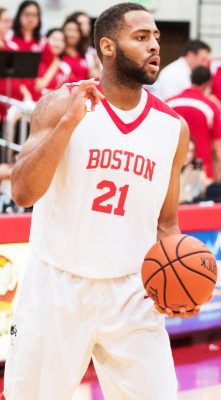 In its 78-63 win over Loyola University Maryland on Saturday afternoon, the Boston University men's basketball team turned up its defensive pressure, which resulted in easy buckets on the other end.
Loyola (13-12, 7-7 Patriot League) is one of the worst teams at controlling the ball in the Patriot League, as it ranks first in turnovers per game with 15. On the other end, BU (15-11, 10-4 Patriot League) is second in the conference in steals with 8.15 per game. On Saturday, the Terriers used their strength to exploit the Greyhounds' weakness, swiping the ball 14 times.
BU head coach Joe Jones was pleased with his team's defensive success.
"I thought overall we were pretty good," Jones said. "Especially with our press — the press really ignited us and we were able to extend the lead. I thought collectively we were pretty good. They shot 40 percent for the game. I think that's pretty good for us."
The Terriers forced the Greyhounds into committing 20 turnovers overall, leading to 20 points on the other end.
Freshman forward Tyler Scanlon (five steals), sophomore guard Kyle Foreman (three steals) and junior guard Cedric Hankerson (two steals) ignited their team's defense.
"Cedric Hankerson has been playing his tail off," Jones said. "It doesn't show because he's not scoring a ton, but he's giving us someone who's really playing hard. He had four rebounds, two steals, he's done a great job with our press and he's driving the ball more."
BU's pressure also limited Loyola's shooters' opportunities. As a team, Loyola shot 40.7 percent overall and 6-14 from deep. In the two teams' previous meetings on Jan. 15, junior guard Andre Walker lit up the Terriers for 35 points and nine 3-pointers. However, on Saturday, he had 16 points on just 4-12 shooting.
Jones said his team did a better job of containing Walker on Saturday.
"We did a nice job," Jones said. "[Walker] is gonna score some, and their big three gets the ball so much. Walker was 1-5 from three and that's the big difference right there, so I thought we did a good job on him."
In the first half, BU forced 12 turnovers and had eight steals and four blocks. The majority of the half was close, and the Greyhounds took a 21-20 lead with 7:13 left, but BU made multiple defensive plays to go on a 16-6 run to end the half.
With 5:26 remaining in the first half, senior guard Eric Fanning turned a steal into a 3-pointer by Scanlon. Then with two minutes remaining before halftime, Foreman drew an offensive foul, resulting in a layup by freshman forward Max Mahoney on the other end, stretching the lead to nine.
In the second half, while BU did not force as many turnovers (eight), they were just as effective in half-court defense, as Loyola converted on only 40.7 percent of its shots, the same as in the first half.
However, when the Greyhounds got within six points with more than six minutes left, the Terriers went back to their full-court pressure to stretch the lead back to 14 and effectively ended the game. At the 5:21 mark, Scanlon had a steal, leading to a layup from senior forward Justin Alston. On the ensuing possession, Fanning stole a pass and dished it to Foreman for an easy layup.
"If you look at it today, they had 20 turnovers," Jones said. "You know, that's a big number right there. It's hard to lose a game if you turn somebody over that many times."