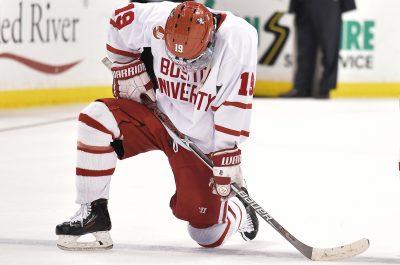 The self-inflicted wounds were simply too much to overcome.
The penalties too grave, the times goaltender Merrick Madsen was solved too few and hopes of a comeback too fleeting.
On Monday night, the No. 4 Boston University men's hockey team longed to raise the Beanpot trophy for the 31st time in its program's history, but it wasn't meant to be. Rather, it was No. 3 Harvard University celebrating inside TD Garden with its first Beanpot championship since 1993.
"This one definitely hurts," said freshman forward Clayton Keller of what was ultimately a 6-3 loss.
Right from the get go, Harvard (18-5-2) dominated, throwing 18 first-period shots on Jake Oettinger, BU's (19-9-2) freshman goaltender. Madsen, conversely, was practically a spectator, only turning aside two shots across the same span.
Then the penalties started coming.
The daggers were two 5-on-3s, one which came in the first frame and another in the second.
The former allowed forward Nathan Krusko to make it a 1-0 game 15:10 in, while the latter led to a tally by Alexander Kerfoot 31 seconds into the third period. In all, BU took five penalties.
"You don't want to give up a 5-on-3, especially in this type of game and that atmosphere," Keller said. "They had a lot of momentum after they scored in the third, so I think we'll learn from it and come back."
The real struggle, though, was BU's shots on goal, or rather lack thereof. Harvard won the shot battle, 46-17, and over its last two contests BU now averages nine shots through the first two periods.
"It's the mentality before the game, getting ready for games and not overthinking things," said Doyle Somerby, a senior defenseman and captain for BU. "We haven't shown up ready to play the last two games and we've paid the consequences for that."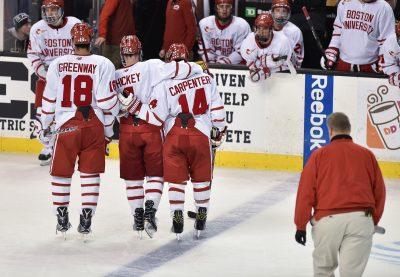 With no offensive flow, Oettinger had to bail BU out time and time again. The 18-year-old finished with 40 saves, but even that wasn't enough.
Rather, Krusko found net twice, forward Ryan Donato, forward Luke Esposito and Kerfoot did the same once apiece and defenseman Adam Fox scored on an empty net.
For BU head coach David Quinn, the game came down to a simple factor: desire.
"This is a game of want and desire, and you've got to do it for 60 minutes," Quinn said. "You can't all of a sudden elevate your want and desire when you have the puck. All five guys have to have a want and desire when they don't have it. You have a responsibility every second you're on the ice, and right now we're having a hard time grasping that."
Compounding matters even further was an lower-body injury to junior defenseman Brandon Hickey. He took a heavy hit from Esposito along the boards midway through the second period and never returned to the game.
As BU was scrambling for a comeback, Somerby said Hickey's absence was noticeable.
"It certainly put our backs up against the wall," Somerby said. "He's a really good defenseman, he's one of our best D and he moves really well. When you're trying to get a goal, you'd like to have him out there."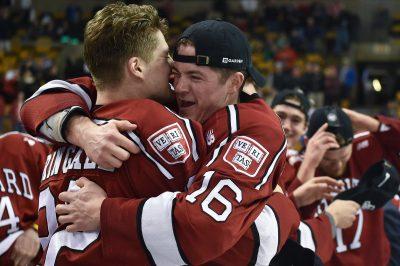 There were glimmers of hope in the second period, as Keller and freshman forward Kieffer Bellows found goal 2:53 apart to make it to 2-1 BU. And when Harvard held a 5-2 lead with seven minutes left, Keller beat Madsen again.
Those positives were lost amidst a downtrodden Terrier locker room, though.
The Terriers had the chance to win their 31st Beanpot crown, but now are left scanning for answers. Keller's hoping they come quickly, too, as a weekend series with the University of New Hampshire awaits.
As for the Beanpot? Until next year.
"I think we're going to regroup and focus on the last part of the season here," Keller said. "We're really focused on finishing strong and having a good rest of the year."