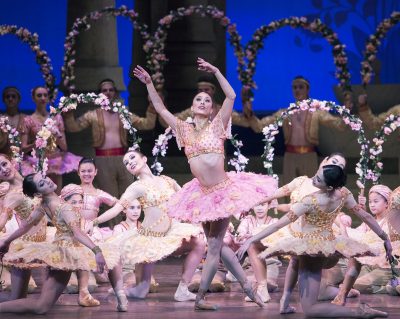 The Boston Cultural Council awarded more than $450,000 to 173 local organizations and projects this year, according to a press release issued Friday by Boston Mayor Martin Walsh.
The BCC, a council within the Mayor's Office of Arts and Culture, receives funds from the Massachusetts Cultural Council and allocates the money to various organizations, according to the release.
Walsh said the grants allow the arts to flourish in Boston and enable local artists and institutions to better pursue their passions.
"These grants allow for a diverse group of organizations and projects to pursue their creative ideas," Walsh said in the release. "Any time we are able to support hardworking local artists and innovative institutions, we are building a stronger and more dynamic arts ecosystem in Boston."
The MCC is a state agency that supports "the nonprofit arts, humanities, and sciences to improve the quality of life in communities across Massachusetts," said Gregory Liakos, an MCC spokesperson.
Liakos said the arts are a defining characteristic of Boston's identity and play a central role in various aspects of the community.
"[The arts] are central to our economic health, they contribute significantly to quality education both in school and out of school, and the arts are intrinsically good," Liakos said. "They make our lives better as human beings and as communities … [and] are really one of the most important ways we make sense of the world and make sense of our relationships with one another."
Liakos said the arts have a creative and economic impact on the lives of citizens.
"[A report] looked at about 680 nonprofit arts, humanities and science organizations around Massachusetts," Liakos said. "Those organizations spent $1.4 billion in the last fiscal year. That [is] an economic impact just on its own. Of those organizations, you had almost 29 million attendees. [There is a] sort of a multiplier effect from arts and culture."
Stella McGregor, founder and executive director of Urbano, one of the groups that received a BCC grant this year, wrote in an email that her program works with children in schools that offer little or no arts education, allowing children to engage in a creative outlet.
"Urbano is an art studio that brings together artist-mentors, local youth and community members to learn, experiment and inspire community dialog through place-based visual, multi-media and performing arts," McGregor wrote.
McGregor wrote that the grant will mainly be used to support art events throughout the community.
"[The grant] will be used to support interactive, multidisciplinary arts events that engage residents, business owners and civic leaders, with the goal of elevating youth and stakeholders' voices in conversations about the future of their community," McGregor wrote.
The funds will go toward various projects that promote the organization's annual theme of "The Commons | The Other," which explores issues such as the use of public space, gentrification and safety, according to McGregor.
Several Boston residents agreed that the arts are a vital component of Boston's culture and identity.
Victoria Smith, 63, of Back Bay, said Boston's art institutions, such as the Boston Symphony Orchestra, the Museum of Fine Arts and the Isabella Stewart Gardner Museum, foster cultural awareness in the community.
"Arts are incredibly important to why people live in Boston and like Boston," Smith said. "They enhance the quality of life in Boston."
Jackie Yessain, 61, of Back Bay, said Boston has a long history of supporting the arts, and the city's efforts are paying off.
"It's important to every culture, especially maybe Boston because it's been such a supporter of the arts from way back," said Yessain. "[Art is] all around us, so it's important to keep it and foster it."
Eric Robinson, 31, of West Roxbury, said the art that people can see around the city is a major attraction.
"It's one of the more defining characteristics of the area," Robinson said. "Just being here, you get such a diversity of not only arts, but other things. [Art] is one of the things that draws people to the city."