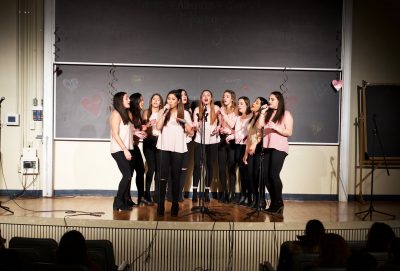 Valentine's Day often prompts eye-rolls and scoffs from those who pass it off as a corporate marketing technique, but this year, the Boston University Sweethearts, an all-female a cappella group, found a way to make the holiday more than that.
The Sweethearts held a pre-Valentine's Day concert Saturday to celebrate love, but also honor Jane Doe Inc., a nonprofit organization dedicated to fighting against domestic violence and sexual abuse. The Sweethearts also invited 10 other BU a cappella groups, including In Achord, the Allegrettos and the Treblemakers, to support the cause.
"Nowadays music can get pretty political, and I think music is something people can listen to even if it's just to relax or express themselves," said Jobelle Manuel, president of the Sweethearts and a junior in BU's Sargent College of Health and Rehabilitation Sciences.
Although topics of sexual and domestic violence wouldn't traditionally surface at a Valentine's Day concert, Manuel collaborated with JDI members to ensure the night carried an appropriate theme.
One way they decided to bridge the two topics together was to promote more respectful language when talking about relationships, one that focused on equality rather than possession. In decorations, for example, the Sweethearts changed candy heart messages from "Be mine" to "I respect you."
Subtle differences such as this changed the nature of the concert, something Manuel and the Sweethearts aimed to do.
"It's a topic that can be sensitive but it needs to be addressed, and music is a great way to do that," Manuel said.
It worked for attendees.
Jack Gillman, a sophomore in BU's College of Arts and Sciences, said the concert was incredible both in music and cause.
"I don't think a lot of people are in tune to what's currently going on around them," Gillman said, referring to sexual violence. "It can happen really anywhere and people sometimes take their safety for granted. I'm glad causes like this can do this and promote a safe atmosphere for everyone."
Rachel Leiner, a member of In Achord and a freshman in BU's College of Communications, said she was also thrilled to be a part of the push to spread the word.
"The gig was such an amazing opportunity for the entire BU a cappella community to come together to raise funds for an important cause," Leiner said. "JDI supports and helps victims of domestic abuse — a problem that is too often overlooked in society."
But despite stigma surrounding the topic, JDI is currently working with 60 members and 56 sexual and domestic violence coalitions in Massachusetts and the United States, spreading the message that sexual violence is, in fact, widespread in the country, according to the JDI website.
The 2010 National Intimate Partner and Sexual Violence Survey also released data about domestic violence in Massachusetts specifically. In Massachusetts, about one in two women and one in four men have experienced sexual violence other than rape. Nearly one in three women and one in five men have experienced rape, physical violence and/or stalking by an intimate partner. More than one in seven women have been raped.
This is where JDI steps in.
"We represent all survivors throughout the state and advocate for their behalf to affect laws and change policies and practices," said Toni Troop, director of communications at JDI.
Although the organization doesn't work directly with victims of sexual and domestic violence, JDI still advocates on behalf of them and addresses issues of various communities, including LGBTQ individuals, teenagers, those with disabilities, immigrants, students and elderly people.
This is why the organization is looking at the new presidency with caution, Troop said.
"We are deeply concerned with some of the policy recommendations and attitudes that are being exhibited by the Trump administration," Troop said. "We are specifically very concerned about the limitations on the rights of immigrants and what may come down in attacks on the LGBTQ community."
It's important to remember how quickly progress can unravel, Troop said, especially since all the "hateful rhetoric" unleashed around the country can have a powerful impact on people's perceptions of certain communities.
"We really applaud the BU Sweethearts in bringing focus to the issue in a positive way," Troop said.
A couple members of the audience said the university seems to be doing its best to raise the awareness on sexual violence by establishing offices such as the Sexual Assault Response and Prevention Center, which provides on-call counselors 24 hours a day.
"They're doing a lot," said Andrew Waxman, a sophomore in BU's Questrom School of Business. "But they can do more."
BU should allow groups to do what the Sweethearts just did, Waxman said, including holding more fundraisers and spreading awareness to college students.
But regardless of advocacy on campuses, JDI continues to connect with as many other programs as possible, Troop said, and their network comes together collectively, working with one another toward a common goal.
"The reality is we can never take civil rights for granted," Troop said. "There are some things we have to demand. And we will continue to do so."
Sarah Finkel contributed to the reporting of this article.