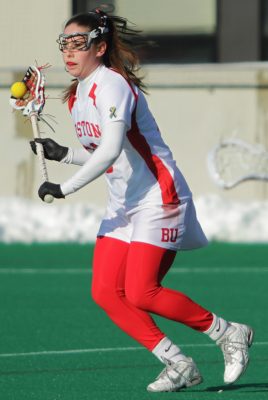 Coming off a third place finish in the Patriot League, the Boston University women's lacrosse team is searching for more success in the 2017 season.
The Patriot League preseason poll has the Terriers slated to place fourth, close to where they finished last season.
The Terriers finished the 2016 season with a record of 10-8, 6-3 in the Patriot League, placing third in the regular season behind Loyola University Maryland and the United States Naval Academy. In the Patriot League tournament, BU was defeated by No. 2 seed Navy.
The 2016 season was the Terriers' best since 2012, a year that the squad recorded 11 wins.
BU head coach Liz Robertshaw has to rebuild after the graduation of a strong senior class, including three of the top five scorers from last season such as attacker Mallory Collins, who finished the season on the All-Patriot League Second Team.
The Terriers also lost midfielders Jill Horka, Remy Nolan, Ally Adams, Sofia Robins, as well as attackers Jenny Thompson and Louisa Del Rio.
Robertshaw is confident that despite the major losses, her team will be able to compete this year.
"We are looking for a lot more than just three scorers to step up," Robertshaw said. "As we move forward, you are going to see more players in the mix. If it all goes to plan, we are going to have a lot more scorers than just three."
Despite losing key pieces, the Terriers return several players that were vital to their success last season.
The standout among all returnees is senior goalkeeper Caroline Meegan. The Lutherville, Maryland native was selected to the All-Patriot League Second Team before being named to the Preseason All-Patriot League Team honors earlier this month.
In addition to Meegan, BU returns its second leading goal scorer, Mickenzie Larivee. The Amherst, New Hampshire native recorded 34 goals and seven assists in 2016. Larivee, who started every game last season, will be relied upon to produce in a similar manner.
Robertshaw is confident that both Meegan and Larivee will be able to lead the team to continued success.
Aiming to replenish the production from the senior class, Robertshaw has recruited  a strong freshman class.
Robertshaw sees freshmen such as Kailey Conry, Mackenzie Howe, Maggie Lohrer and Lexi Lewis as players who are able to contribute from the season's start.
"Mackenzie Howe is great on the draw control and already has proven she can make a splash just in her first week back," Robertshaw said. "Lewis is your all-around [midfielder], she goes hard, she goes fast and she's just a dominant attacker."
The Terriers have seven freshmen coming in, which includes four midfielders, one attacker, one defender and one goalkeeper. Goalkeeper Bianca Smith is the first goalkeeper who has committed to BU in two years.
In its season opener, BU will take on No. 17 Boston College, looking to avenge its season opening from last year. In 2016, the Eagles routed BU 18-9 as the No. 9 ranked team in the nation.
Looking to start the season off with a win, Robertshaw knows the Terriers have to come out aggressive against BC (2-1).
She acknowledged that BC has already played three games, putting the Terriers at a bit of a disadvantage. But she is not going to make any excuses for her young and talented team.
"It's going to be eye-opening for our freshmen to have their first game be a BU-BC game," Robertshaw said. "We need to do our best to slow the game down and also make sure our young players feel comfortable on the field, that's going to be the big thing for them.