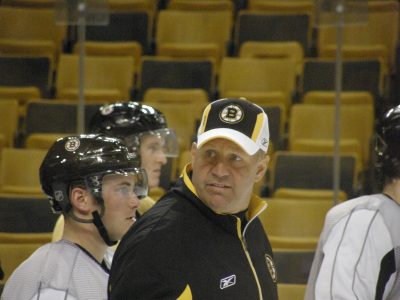 Last week the Boston Bruins made waves by firing head coach Claude Julien the morning that the New England Patriots held a parade to celebrate their victory in Super Bowl LI.
The B's held a press conference to announce the firing midway through the parade — in a cowardly attempt to slip it past idle fans who they thought were strictly paying attention to Tom Brady and company.
Wrong.
Now, with the black and gold 3-0 under new head coach Bruce Cassidy, Julien is once again back in the headlines, to the ire of most B's fans. Tuesday afternoon, the rival Montreal Canadiens announced that they had fired head coach Michel Therrien and hired Julien in an effort to help the storied franchise win its first Stanley Cup since 1993.
While the fan reaction has yet to fully develop, as the move is still fresh, the temptation by many faithful Bruins is to chastise Julien for inking a deal with the hated Habs after spending nearly a decade in Boston.
Wrong.
If there is anyone to blame for Julien's defection, it is Boston's incompetent duo of President Cam Neely and General Manager Don Sweeney — both former B's. Claude had recorded the most wins — 419 to be precise — of any coach in Bruins' history. Yes, he had a knack for not playing young, developing players, especially when his team needed jolts or to dig out of a hole. His defensive-minded style focused largely on physical play and grind it out effort that worked well for younger D-cores, but not ones featuring the aging bodies of Zdeno Chara and Adam McQuaid.
However, despite his deficiencies as a head coach, Claude was largely scapegoated due to the shortcomings of the front office. Think about it. The Bruins once turned one of their budding stars, Phil Kessel, over to the Toronto Maple Leafs in return for draft picks that would become Tyler Seguin and Dougie Hamilton. In the summer of 2013, many in Boston were rightfully excited about the future of the black and gold, despite a recent loss in the Stanley Cup finals.
Then it all started to go south for the Bruins. Both Seguin and Hamilton were traded — Seguin for reasons of maturity and Hamilton for not gelling with the locker room. Essentially, the Bruins shipped out the likes of Kessel, Seguin and Hamilton — some of the league's brightest stars — in return for garbage.
The only bright star, Loui Eriksson, signed with the Vancouver Canucks this offseason while other additions, Jimmy Hayes and Joe Morrow, frankly aren't worthy of roster spots in the NHL.
In 2011, when Julien delivered Boston its first Stanley Cup since Bobby Orr's time, the Bruins were largely aided by the play of their fourth line. Comprised of Gregory Campbell, Daniel Paille and fan-favorite Shawn Thornton, the B's rode a complete roster all the way to a championship. Two years later, when the Bruins fell two wins short of another title in 2013, the roster was still very much in tact.
However, in 2014, the writing was on the wall for many's beloved B's. Seguin had just been shipped off to Dallas and the team also sent Johnny Boychuk packing to the New York Islanders.
All three of Boston's great fourth liners were not kept, as ownership decided they had become too expensive. Blue liner Andrew Ference signed with the Edmonton Oilers, and first liner Nathan Horton inked a deal with the Columbus Blue Jackets – more victims of penny-pinching owners.
Milan Lucic was sent to the Los Angeles Kings in exchange for Martin Jones, who the Bruins quickly flipped to the San Jose Sharks in exchange for a first round pick. The Sharks were expected to be toward the bottom of the league, giving Boston a coveted high-lottery pick. Oops, that didn't happen.
Instead, the Sharks went to the Cup finals, and the Bruins selected 29th, where they took Trent Frederic, who ranked 47th among North American skaters.
The Bruins' scouting has also time and time again been as far off the mark as possible about potential studs in the Boston farm system. Malcolm Subban, thought to be the heir apparent for Tuukka Rask, hasn't been heard of since saving a puck with his throat during warm-ups in February 2016 — a move that forced him to miss eight weeks in Providence. In his NHL debut, he gave up three goals on six shots. Not the best save percentage.
The Bruins also never stopped raving about Jordan Caron, who they selected 25th in the 2009 Entry Draft. He scored 12 total goals as a Bruin, despite playing in 134 games with the club.
So, if any Bruins fans out there want to complain that Claude Julien is a bad guy for taking a job with the first place team in the Atlantic Division, put yourself in his shoes.
He took over for a team that hadn't made it out of the first round of the playoffs since 1999, brought them a Stanley Cup and then made just short of it another two years later.
Then ownership refused to pay some of his key players, scouting consistently got wrong all of his upcoming prospects, and management traded away his best talents again and again. Then, when the team began to flounder because powers beyond his control had gutted what was once a championship roster and stripped it down to its bare bones, the blame and the axe fell on his head all because of his "system."
Now he has the opportunity to take over a playoff-bound team while sticking it to his former employers who he may feel have wronged him. Pretty easy decision to make.