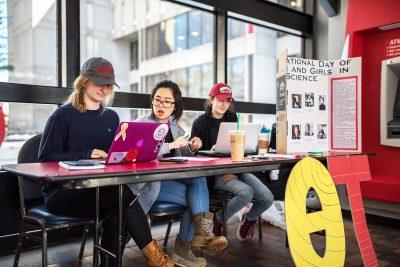 At a table with information about Rosalind Franklin, Jane Goodall and Ada Lovelace scattered about, the brothers of Theta Tau — Boston University's professional, co-ed engineering fraternity — gathered in the George Sherman Union on Friday in light of International Day of Women and Girls in Science, which was officially celebrated on Saturday.
The celebration's goal was to raise awareness of International Day of Women and Girls in Science, said Alexia Chiclana, a junior in BU's College of Engineering.
"Our board puts a couple of statistics about how many women are actually in the science field because it is still a lower percentage, and we are trying to work to get that to be a higher percentage," Chiclana said.
While Theta Tau works to encourage female engineers, their main goal is to work toward fulfilling their three pillars of service, brotherhood and profession, through different events and activities, according to the Theta Tau website.
"We focus a lot on professional development," said Jasmine Clevenger, a freshman in ENG. "We do multiple community service events every semester. This semester we're doing Relay for Life, and we go to food banks and stuff like that."
Theta Tau places a large emphasis on the pillar of professional development, Clevenger said. Several events, such as career fairs, expose students to a professional atmosphere.
On Feb. 8, Theta Tau brothers put their skills to the test at ENG's semester career fair.
"It's getting yourself to go to that career fair, even if you don't necessarily need an internship for this upcoming summer," Chiclana said. "But just to get into the aspect of dressing in professional dress, getting your resume looked at by people and getting used to talking to people so that when you actually do need to talk to somebody to get that internship, you're already prepared for professional development."
For Lena Sabidussi, a sophomore in ENG, joining Theta Tau meant surrounding herself with a group of similar-minded people in pursuit of professional experience, she said.
"I personally really wanted to be a part of it because there were a lot of people that would support me through this journey in engineering, and because I didn't really know how to approach getting a job in the field," Sabidussi said. "Theta Tau helped me build my resume, helped me approach people at career fairs [and] act professionally in my day to day life."
While Theta Tau provides professional help in the careers of engineering students, the fraternity can also engender brotherly bonds.
Chiclana said her favorite event in Theta Tau is their one-day retreat because it brings every brother in the fraternity closer together.
"It's a whole day of being together and doing different activities," Chiclana said. "It's a little bit of team building, a little bit of sitting around and getting to know everyone. It's a nice way to bond with people."
In working toward degrees in engineering with rigorous workloads, the brothers of Theta Tau said they find it crucial to have a support network.
"Just like any other fraternity, [while] we focus a little bit more on the professional aspects, we are still like one big family," Clevenger said.
In light of International Day of Women and Girls in Science, the women of Theta Tau reflected on how their experiences as brothers in the fraternity have enhanced their pride and drive to be engineers and women in science.
Sabidussi said she has been faced with criticism from people who underestimate her career path simply because she is a woman pursuing engineering. But she does not let the remarks of critics impede her love of science, she said.
"I'm happy to have overcome them and be a part of [engineering]," she said. "I really love it."
In the face of similar criticism, Clevenger said she found that Theta Tau has instilled pride in her pursuit of engineering.
"As somebody from a small town that's pretty conservative I have constantly been told, 'Are you sure you really want to try engineering?'" Clevenger said. "So, it's really nice to be included with a group of like 50 people."
Theta Tau offers its members more than the three pillars of service, brotherhood and profession, Chiclana said. It offers brothers a voice and a chance to apply their innovative knowledge and insight.
"I'm proud to be a woman in science, in engineering, because I get to share my views and opinions on how technology should be created and utilized with so many other people," Chiclana said. "I like having my voice out there."