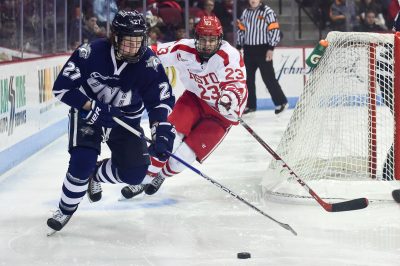 There's an aura of déjà vu around Agganis Arena.
For the second time in three weeks, the No. 4 Boston University men's hockey team approaches the weekend looking to break out of a two-game skid.
This go around, the opportunity comes via a home-and-home series against the University of New Hampshire, with Friday night's game at Agganis and Saturday evening's at the Whittemore Center.
"Our next goal is to win the regular season championship, and we still can do that," said BU head coach David Quinn. "All our energy has been geared towards Friday night and putting forth our best effort."
As Quinn later spoke to, BU (19-9-2, 11-5-2 Hockey East) is enduring a rut, having lost back-to-back contests away to No. 6 University of Massachusetts Lowell and then to No. 3 Harvard University in the Beanpot Tournament title bout. During that stretch, Quinn has lamented his team's compete level across 60 minutes.
For one, BU has averaged nine shots on goal through the first two periods. Its power play has struggled, too, going 4-for-38 across the last eight games. Meanwhile, in the losses to Harvard (18-5-2) and Lowell (19-9-3, 11-7-1 Hockey East), BU took a combined 11 penalties.
Accordingly, senior forward Nick Roberto was blunt in saying that BU, which is college hockey's youngest team, has to switch some things up.
"Just working hard, holding onto the puck more," Roberto said. "Puck possession we kind of got rid of the last couple games. We have to get our compete level back."
When BU takes on the Wildcats (12-14-4, 7-8-3 Hockey East) this weekend, expect lineup changes.
Quinn didn't want to give away specifics, but did confirm that junior defenseman Brandon Hickey will be out with a lower-body injury to his right leg. He's joined on the sideline by junior forward Nikolas Olsson, who continues to recover from a broken leg.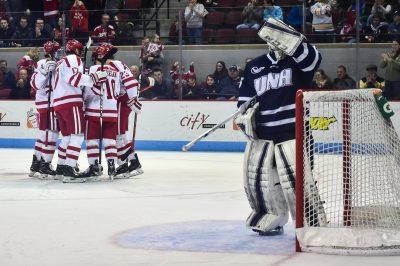 Outside of that, freshman goaltender Jake Oettinger will start on Friday against UNH, and junior defenseman John MacLeod said BU is looking ahead instead of dwelling in the past.
"The first thing was everyone just wanted to forget about it and wipe the slate clean," MacLeod said. "Just start over. It's the best thing we can do – we have to move forward and focus on each day at a time."
Sentiments aside, UNH by no means represents a pushover.
Senior Tyler Kelleher's 51 points are second in the country, defenseman Matias Cleland's 28 points lead all Hockey East defensemen and Daniel Tirone is a streaky goaltender (2.80 goals against average, .911 save percentage).
The power play is where the Wildcats might do the most damage, though, as their 22.67 percent success rate is the nation's eighth-best mark. When their top unit is at work, keep an eye out for Kelleher (nine PPG), forward Patrick Grasso (nine PPG) and forward Michael McNicholas (eight PPG).
"You better be 100 percent committed to putting a body on those guys or they're going to make you look foolish," Quinn said. "If we're physical with them but physical within the rules of the game, then I like our chances of trying to neutralizing them."
The looming question, however, is how this weekend will implicate the impending Hockey East playoffs.
Quinn's squad, currently in second place, can finish anywhere from first to eighth. Plus, next weekend brings about a two-game homestand against No. 15 University of Notre Dame, which will surely further implicate the postseason picture.
Despite all that, BU is focused on taking care of business in the interim and letting the chips fall as they may.
"We have to take it one game at a time," Roberto said. "We still have a shot at coming in first place. If we take care of business then it's all up to [Boston College] at the end of the day and what they do."